Web&IT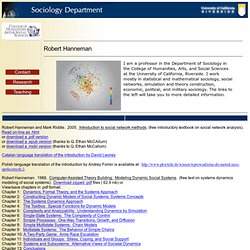 Robert Hanneman's Homepage
Robert Hanneman and Mark Riddle. 2005. Introduction to social network methods. (free introductory textbook on social network analysis).
Eric Von Hippel's Homepage
Top Interactive Agency – Personalized Marketing Solutions
A collaborative help system that finally gives your customers and agents the knowledge they need in real time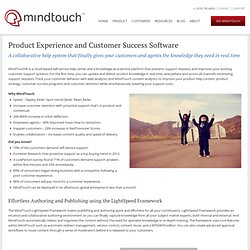 Osservatorio Enterprise 2.0 Polimi
Managerial Network Analysis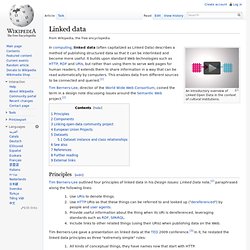 An introductory overview of Linked Open Data in the context of cultural institutions.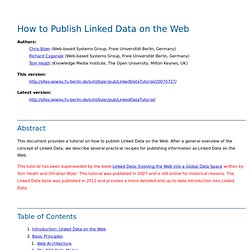 This document provides a tutorial on how to publish Linked Data on the Web. After a general overview of the concept of Linked Data, we describe several practical recipes for publishing information as Linked Data on the Web. This tutorial has been superseeded by the book Linked Data: Evolving the Web into a Global Data Space written by Tom Heath and Christian Bizer. This tutorial was published in 2007 and is still online for historical reasons. The Linked Data book was published in 2011 and provides a more detailed and up-to-date introduction into Linked Data.
FOAF logo. FOAF (an acronym of Friend of a friend) is a machine-readable ontology describing persons, their activities and their relations to other people and objects. Anyone can use FOAF to describe him- or herself. FOAF allows groups of people to describe social networks without the need for a centralised database.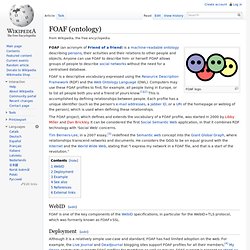 FOAF (software)
Derrick de Kerckhove (born 1944) is the author of The Skin of Culture and Connected Intelligence and Professor in the Department of French at the University of Toronto, Canada. He was the Director of the McLuhan Program in Culture and Technology from 1983 until 2008. In January 2007, he returned to Italy for the project and Fellowship "Rientro dei cervelli", in the Faculty of Sociology at the University of Naples Federico II where he teaches "Sociologia della cultura digitale" and "Marketing e nuovi media".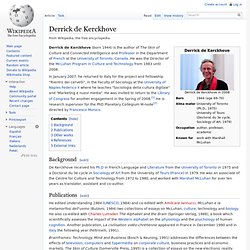 Derrick de Kerckhove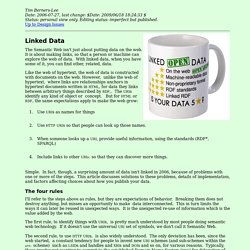 Up to Design Issues The Semantic Web isn't just about putting data on the web.
D2R Server is a tool for publishing relational databases on the Semantic Web. It enables RDF and HTML browsers to navigate the content of the database, and allows querying the database using the SPARQL query language. It is part of the D2RQ Platform.
D2R Server – Publishing Relational Databases on the Semantic Web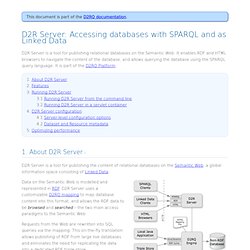 A hand conversion to HTML of the original MacWord (or Word for Mac?) document written in March 1989 and later redistributed unchanged apart from the date added in May 1990.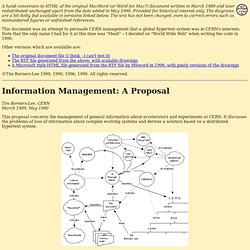 Happy everytime is see someone pearling this document. In every respect an amazing one. by Patrice May 31
DBpedia is a crowd-sourced community effort to extract structured information from Wikipedia and make this information available on the Web.