Web&IT
Robert Hanneman's Homepage. Robert Hanneman and Mark Riddle. 2005.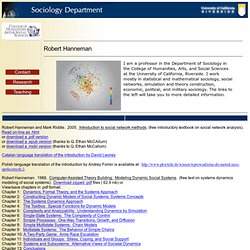 Introduction to social network methods. (free introductory textbook on social network analysis). Eric Von Hippel's Homepage.
Social Community. Top Interactive Agency – Personalized Marketing Solutions. Communities. Twitter Adder – Professional Twitter Marketing Tools – Automatic. OnDemand - Open Source Collaborative Networking for Intranets an. A collaborative help system that finally gives your customers and agents the knowledge they need in real time MindTouch® is a cloud based self-service help center and a knowledge-as-a-service platform that prevents support requests and improves your existing customer support systems.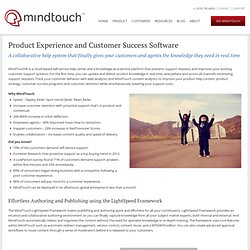 For the first time, you can update and deliver product knowledge in real-time, everywhere and across all channels minimizing support requests. Track your customer behavior with web analytics and MindTouch content analytics to improve your product help content, product strategy, customer success programs and customer retention while simultaneously lowering your support costs. Speed – Deploy faster. Osservatorio Enterprise 2.0 Polimi.
Contents. Managerial Network Analysis. MediaWiki. Companies. Programs. Ixquick Web Cerca. Eam-erp. Twitter's original drawing. Linked Data. An introductory overview of Linked Open Data in the context of cultural institutions.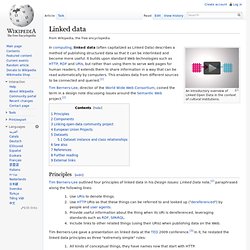 In computing, linked data (often capitalized as Linked Data) describes a method of publishing structured data so that it can be interlinked and become more useful. It builds upon standard Web technologies such as HTTP, RDF and URIs, but rather than using them to serve web pages for human readers, it extends them to share information in a way that can be read automatically by computers. This enables data from different sources to be connected and queried.[1] How to publish Linked Data on the Web. This document provides a tutorial on how to publish Linked Data on the Web.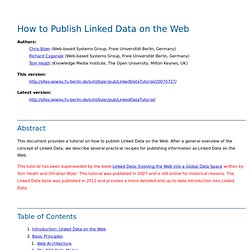 After a general overview of the concept of Linked Data, we describe several practical recipes for publishing information as Linked Data on the Web. This tutorial has been superseeded by the book Linked Data: Evolving the Web into a Global Data Space written by Tom Heath and Christian Bizer. This tutorial was published in 2007 and is still online for historical reasons. The Linked Data book was published in 2011 and provides a more detailed and up-to-date introduction into Linked Data.
Crm
FOAF (software) FOAF logo.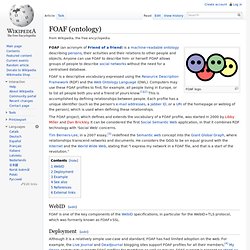 FOAF is a descriptive vocabulary expressed using the Resource Description Framework (RDF) and the Web Ontology Language (OWL). Computers may use these FOAF profiles to find, for example, all people living in Europe, or to list all people both you and a friend of yours know.[1][2] This is accomplished by defining relationships between people. Each profile has a unique identifier (such as the person's e-mail addresses, a Jabber ID, or a URI of the homepage or weblog of the person), which is used when defining these relationships.
Derrick de Kerckhove. Derrick de Kerckhove (born 1944) is the author of The Skin of Culture and Connected Intelligence and Professor in the Department of French at the University of Toronto, Canada.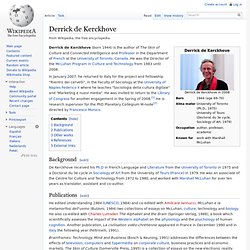 He was the Director of the McLuhan Program in Culture and Technology from 1983 until 2008. In January 2007, he returned to Italy for the project and Fellowship "Rientro dei cervelli", in the Faculty of Sociology at the University of Naples Federico II where he teaches "Sociologia della cultura digitale" and "Marketing e nuovi media". Linked Data - Design Issues. Up to Design Issues The Semantic Web isn't just about putting data on the web.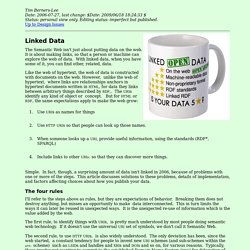 It is about making links, so that a person or machine can explore the web of data. With linked data, when you have some of it, you can find other, related, data. Like the web of hypertext, the web of data is constructed with documents on the web. However, unlike the web of hypertext, where links are relationships anchors in hypertext documents written in HTML, for data they links between arbitrary things described by RDF,.
Google's founding article. D2R Server – Publishing Relational Databases on the Semantic Web. D2R Server is a tool for publishing relational databases on the Semantic Web.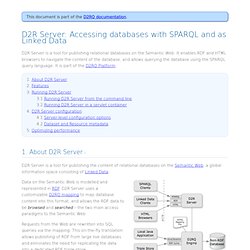 It enables RDF and HTML browsers to navigate the content of the database, and allows querying the database using the SPARQL query language. It is part of the D2RQ Platform. SweoIG/TaskForces/CommunityProjects/LinkingOpenData - ESW Wiki. News 2013-11-26: Sören Auer, Tim Berners-Lee, Tom Heath, and CHris Bizer are organizing the 7th edition of the Linked Data on the Web workshop at WWW2014 in Seoul, Korea.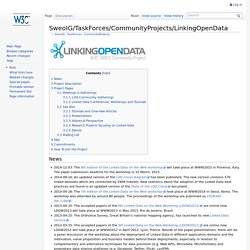 The paper submission deadline for the workshop is February 16th, 2014. 2013-04-25: The accepted papers of the 6th Linked Data on the Web Workshop (LDOW2013) are online now. LDOW2013 will take place at WWW2013 in May 2013, Rio de Janeiro, Brazil. 2013-04-25: The Ordnance Survey, Great Britain's national mapping agency, has launched its new Linked Data service. 2012-03-25: The accepted papers of the 5th Linked Data on the Web Workshop (LDOW2012) are online now.
The original proposal of the WWW, HTMLized. A hand conversion to HTML of the original MacWord (or Word for Mac?)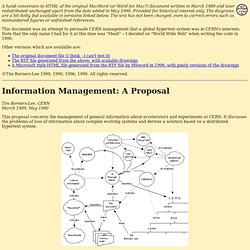 Document written in March 1989 and later redistributed unchanged apart from the date added in May 1990. Provided for historical interest only. The diagrams are a bit dotty, but available in versioins linked below. The text has not been changed, even to correct errors such as misnumbered figures or unfinished references. This document was an attempt to persuade CERN management that a global hypertext system was in CERN's interests. About. DBpedia is a crowd-sourced community effort to extract structured information from Wikipedia and make this information available on the Web. DBpedia allows you to ask sophisticated queries against Wikipedia, and to link the different data sets on the Web to Wikipedia data. We hope that this work will make it easier for the huge amount of information in Wikipedia to be used in some new interesting ways. Furthermore, it might inspire new mechanisms for navigating, linking, and improving the encyclopedia itself.
Upcoming Events.
---