Smallville
WBshop.com - The Official Online Store of Warner Bros. Studios
Letras de músicas - Letras.mus.br
VAGALUME - Letras de Músicas e músicas para ouvir!
Blender Foundation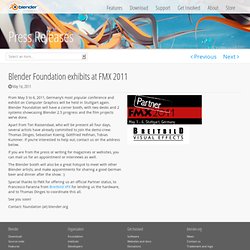 From May 3 to 6, 2011, Germany's most popular conference and exhibit on Computer Graphics will be held in Stuttgart again. Blender Foundation will have a corner booth, with two desks and 2 systems showcasing Blender 2.5 progress and the film projects we've done. Apart from Ton Roosendaal, who will be present all four days, several artists have already committed to join the demo crew: Thomas Dinges, Sebastian Koenig, Gottfried Hofman, Tobias Kummer.
Home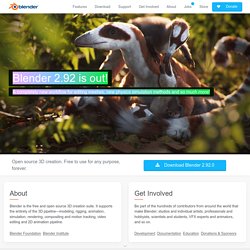 Top 20 developers in 2013 To salute and applaud the developers: here's a 2013 top-20 Blender developers page. Plans for 2014-2015 With the high quality demands users expect nowadays it's needed to involve more full-time developers.
AskMen.com - Free Men's Online Magazine