Referência
Delphi.vcl. Adjunto Adnominal. Adjunto Adnominal É o termo que determina, especifica ou explica um substantivo.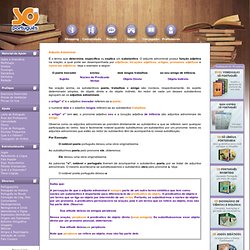 O adjunto adnominal possui função adjetiva na oração, a qual pode ser desempenhada por adjetivos, locuções adjetivas, artigos, pronomes adjetivos e numerais adjetivos. Veja o exemplo a seguir: Na oração acima, os substantivos poeta, trabalhos e amigo são núcleos, respectivamente, do sujeito determinado simples, do objeto direto e do objeto indireto. 30 Windows 7 Hotkeys: Ultimate Guide. Apart from so many new features in Windows 7, Microsoft has also added new hotkeys to give individuals better control over their operating system.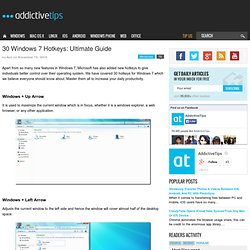 We have covered 30 hotkeys for Windows 7 which we believe everyone should know about. Master them all to increase your daily productivity. Windows + Up Arrow It is used to maximize the current window which is in focus, whether it is a windows explorer, a web browser, or any other application. Windows + Left Arrow. Delphi Basics. C R E Mario Covas - Centro de Referência em Educação.
---