Model
The HTML5 test score is an indication of how well your browser supports the upcoming HTML5 standard and related specifications. Even though the specification isn't finalized yet, many features are already supported and all major browser manufacturers are making sure their browser is ready for the future. Find out which parts of HTML5 are already supported by your browser today and compare the results with other browsers. The HTML5 test does not try to test all of the new features offered by HTML5, nor does it try to test the functionality of each feature it does detect.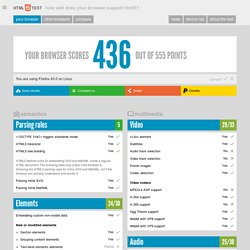 In June of 2005, the Business Process Management Initiative (BPMI.org) and the Object Management Group™ (OMG™) announced the merger of their Business Process Management (BPM) activities to provide thought leadership and industry standards for this vital and growing industry. The combined group has named itself the Business Modeling & Integration (BMI) Domain Task Force (DTF) . For more information about the BMI DTF's activities, please visit BMI Working Group Page .
Business Process Management Initiative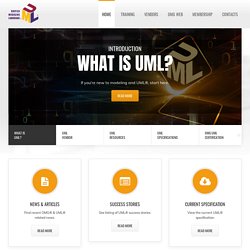 Getting Started with UML: The Unified Modeling Language™ - UML - is OMG's most-used specification, and the way the world models not only application structure, behavior, and architecture, but also business process and data structure. UML, along with the Meta Object Facility (MOF™), also provides a key foundation for OMG's Model-Driven Architecture®, which unifies every step of development and integration from business modeling, through architectural and application modeling, to development, deployment, maintenance, and evolution. OMG is a not-for-profit technology standards consortium; our members define and maintain the UML specification which we publish in the series of documents linked on this page for your free download. Software providers of every kind build tools that conform to these specifications.