NON GMO
Non-GMO product suppliers in the United States by state directory | The Non-GMO Sourcebook. Our Products | Nature's Path Foods. Southern Exposure Seed Exchange, Saving the Past for the Future. Non-GMO Project Participating Companies listed in The Non-GMO Sourcebook. Non-GMO Project. The Non-GMO Project is a non-profit organization representing all sectors of the organic and natural products industry.
The Non-GMO Project is a non-profit organization, created by leaders representing all sectors of the organic and natural products industry in the United States and Canada, to develop and uphold a standardized definition of "non-GMO" for food and other products that are produced without genetic engineering.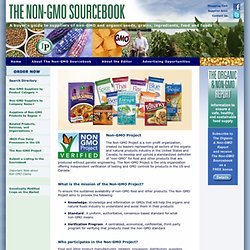 The Non-GMO Project is the only organization offering independent verification of testing and GMO controls for products in the US and Canada. What is the mission of the Non-GMO Project? To ensure the sustained availability of non-GMO food and other products. The Non-GMO Project aims to provide the following: Expert panel calls for "transforming US agriculture" By Ken Roseboro Published: June 1, 2011 Category: Organic/Sustainable Farming To access all the articles in this month's issue of The Organic & Non-GMO Report, SUBSCRIBE NOW.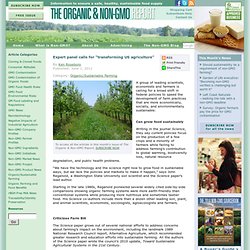 A group of leading scientists, economists and farmers is calling for a broad shift in federal policies to speed the development of farm practices that are more economically, socially, and environmentally sustainable. Can grow food sustainably Writing in the journal Science, they say current policies focus on the production of a few crops and a minority of farmers while failing to address farming's contribution to global warming, biodiversity loss, natural resource degradation, and public health problems. Non-GMO product suppliers United States directory | The Non-GMO Sourcebook. RiceSelect1925 FM 2917Alvin, TX 77511Phone: 800-232-7423Fax: info@riceselect.comwww.riceselect.comContact: Mark DenmanProducts: Bulk certified organic and identity preserved riceRichland, IFC100 Tenth St.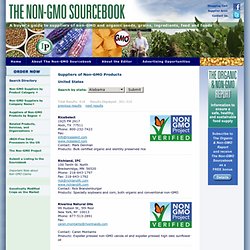 NorthBreckenridge, MN 56520Phone: 218-643-1797Fax: 218-643-1792rick@richlandifc.comwww.richlandifc.comContact: Rick BrandenburgerProducts: Specialty soybeans and corn, both organic and conventional non-GMO Riverina Natural Oils99 Hudson St., 5th floorNew York, NY 10013Phone: 877-513-2891Fax: caren.montante@riverinaoils.comContact: Caren MontanteProducts: Expeller pressed non-GMO canola oil and expeller pressed high oleic sunflower oilRoberts Seed, Inc.982 22 Rd.Axtell, NE 68924Phone: 308-743-2565Fax: 308-743-2048robertsseed@gtmc.netContact: Joe RobertsProducts: Organic and non-GMO grains: corn; amaranth, barley, dry beans, grain sorghum, oats, peas, soybeans (food- or feed-grade), soybean meal, popcorn, millet, alfalfa pellets.
---