NON GMO
Non-GMO product suppliers in the United States by state directory | The Non-GMO Sourcebook
Our Products | Nature's Path Foods
Non-GMO Project Participating Companies listed in The Non-GMO Sourcebook
The Non-GMO Project is a non-profit organization representing all sectors of the organic and natural products industry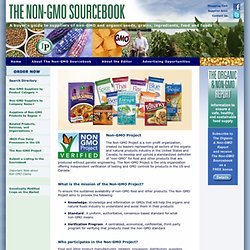 The Non-GMO Project is a non-profit organization, created by leaders representing all sectors of the organic and natural products industry in the United States and Canada, to develop and uphold a standardized definition of "non-GMO" for food and other products that are produced without genetic engineering.
By Ken Roseboro Published: June 1, 2011 Category: Organic/Sustainable Farming
Expert panel calls for "transforming US agriculture"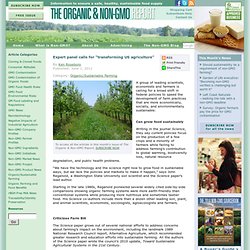 Seeds Trust 5870 S. Long Ln.Littleton, CO 80201Phone: 720-335-3436Fax: 877-686-7524support3@seedstrust.comwww.seedstrust.comContact: Bill McDormanProducts: Non-GMO, non-hybrid, untreated, organic vegetable, herb, wildflower, native grass seeds adapted to cold short seasonsSeedsNow.comP.O. Box 1820Thousand Oaks, CA 91358Phone: 877-344-4669Fax: support@seedsnow.comwww.seedsnow.comContact: 877-344-4669Products: Non-GMO vegetable seeds, kits, and more.
Non-GMO product suppliers United States directory | The Non-GMO Sourcebook