Free mmorpgs
Free MMO and MMORPG Gamelist at MMORPG
You are here: Free MMORPG - MMOHuts Popular MMOs and MMORPGs Free MMORPG and MMO Gamelist Latest Free MMORPG / MMO Reviews / Videos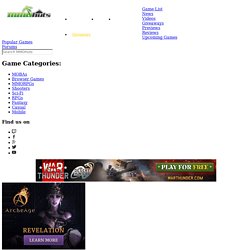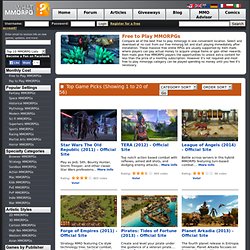 Compare all of the best free to play mmorpgs in one convenient location. Select and download at no cost from our free mmorpg list and start playing immediately after installation. These massive free online RPGs are usually supported by item malls where players can pay actual money to acquire unique items or gain other rewards. Item malls give free MMORPG players the opportunities to unlock extra content for less than the price of a monthly subscription.
Free to Play MMORPGs - Free MMORPG List and Free Online RPGs | What MMORPG
Runes of Magic - Free to Play MMORPG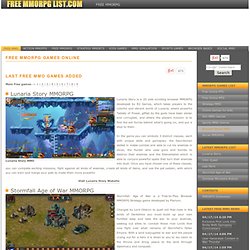 More Free games -> 1 | 2 | 3 | 4 | 5 | 6 | 7 | 8 | 9 Lunaria Story MMO Lunaria Story is a 2D side scrolling browser MMORPG developed by R2 Games, which takes players to the colorful and vibrant world of Lunaria, where powerful Tablets of Power, gifted by the gods have been stolen and corrupted, and where the players mission is to find the evil forces behind what's going on, and put a stop to them. In the game you can embody 3 distinct classes, each with unique skills and gameplay: the Swordsman skilled in melee combat and able to cut his enemies in slices, the Hunter who uses guns and bombs to destroy their enemies and the Elementalist which is able to conjure powerful spells that turn their enemies into dust.