Free mmorpgs
Leagueoflegends
Free MMO and MMORPG Gamelist at MMORPG. Free Online MMORPG and MMO Games List. Free to Play MMORPGs - Free MMORPG List and Free Online RPGs | What MMORPG. Compare all of the best free to play mmorpgs in one convenient location.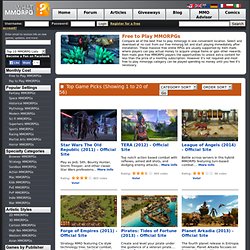 Select and download at no cost from our free mmorpg list and start playing immediately after installation. These massive free online RPGs are usually supported by item malls where players can pay actual money to acquire unique items or gain other rewards. Item malls give free MMORPG players the opportunities to unlock extra content for less than the price of a monthly subscription.
Runes of Magic - Free to Play MMORPG
Free MMORPG List - Free MMORPG Online - mmorpg games - Free To Play Games.
---