Tools
What's My IP Address? Networking Tools & More. Como pagar boleto vencido : reBoleto. TweetMeme - Search and Retweet the Hottest Stories on Twitter. Select Your Unlocker... WhatTheFont : MyFonts. RANDOM.ORG - True Random Number Service. The Generator Blog. Home - Your Sniper for Better eBay Sniping (Snipe here FREE and win more auctions!)
SnipeStreet is a FREE service that places a bid for you just before an eBay auction ends (commonly known as auction sniping).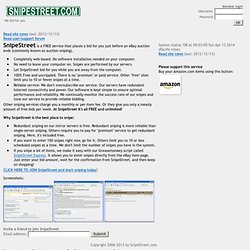 Completely web-based. No software installation needed on your computer. No need to leave your computer on. Snipes are performed by our servers. Sptrans. Email Trace - Trace Email and Track Email tool. Performing an email trace can be done with two different methods and IP-Adress.com can help you discover the sender of any email by using that person's IP address information that you received.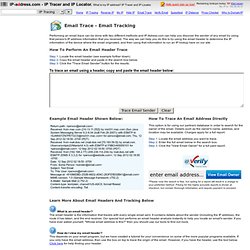 The way we can help you do this is by using the email header to determine the IP information of the device where the email originated, and then using that information to run an IP lookup here on our site. How To Perform An Email Header Trace Step 1: Locate the email header (see example further down).Step 2: Copy the email header and paste in the search box below.Step 3: Click the "Trace Email Sender" button for the results.
To trace an email using a header, copy and paste the email header below: please wait. Where is Your Username registered. Online Office, Word Processor, Spreadsheet, Presentation, CRM and more. Mibbit. .: SUMO Paint :. Serviço Online Gratuito de Antivírus. QuarkBase : Everything about a Website. Online image editor pixlr. CL1P.net - The Internet Clipboard. Fake Name Generator - Get a Random Name. Free Online Barcode Generator. Generate Free Barcodes Online: Linear Barcodes, 2D Codes, GS1 DataBar, Postal Barcodes and many more!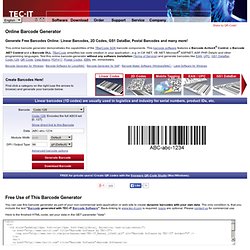 This online barcode generator demonstrates the capabilities of the TBarCode SDK barcode components. This barcode software features a Barcode ActiveX® Control, a Barcode .NET Control and a Barcode DLL. TBarCode simplifies bar code creation in your application - e.g. in C# .NET, VB .NET, Microsoft® ASP.NET, ASP, PHP, Delphi and other programming languages. What's My IP Address? Gt; Get Started > Enable OpenDNS.
Office 2.0 Database - My Office 2.0 Setup. Online beta. Docs - All items. Online Office, Word Processor, Spreadsheet, Presentation, CRM and more. Gliffy.com. Free domain name tools, IP tools, DNS tools. Open Ports Tool. Remote Address Port Number Check a port's status by entering an address and port number above.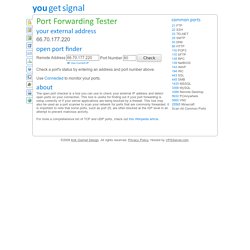 Is your router causing you massive grief? Try picking up a cheap Netgear N600 on Amazon. Ip Tools, DNS tools, internet tools, WHOIS, traceroute, ping, domain name tools. Meebo.com. 5000+ Resources to Do Just About Anything Online. Since May 2007, we've been bringing you resources and tools to be more productive on the web.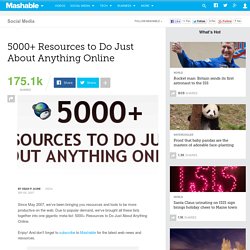 Due to popular demand, we've brought all these lists together into one gigantic meta-list: 5000+ Resources to Do Just About Anything Online. Enjoy! And don't forget to subscribe to Mashable for the latest web news and resources. 6 Key Ways to Measure Your Blog's Success - Six essential tools for measuring how your blog is performing. Meebo.com. ChatMaker.NET: Make your own chat room! Flip. IP Address Locator - Enter an IP address to find its location - Lookup Country Region City etc. This Geo Ip Location service (IP Address Map lookup service) is provided for FREE by Geobytes, inc to assist you in locating the geographical location of an IP Address.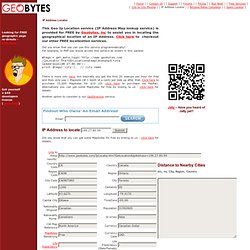 Click here to checkout our other FREE localization services. Did you know that you can use this service programmatically? For example, in PHP you would access this service as shown in this sample: $tags = get_meta_tags(' Bugmenot.com - login with these free web passwords to bypass compulsory registration. ASCII Generator.
---