Tekken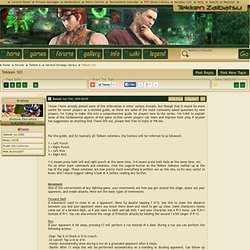 Getting Up From the Ground Getting up from the ground is a question that a lot of people have been asking me about lately, and something a lot of new players don't understand, which causes them to get up in a risky way and eat another combo. Not fun in a game where 2 combos can put you into danger of a KO. Being able to get back to standing properly can save you a lot of damage from float into B!
Tekken Zaibatsu Forums - Tekken 101
Tekken Zaibatsu Forums - The Tekken Zaibatsu Jargon Dictionary
for all the people who are new here, i present to you this dictionary that will help you understand some of the jargon that people blurt out in the forums.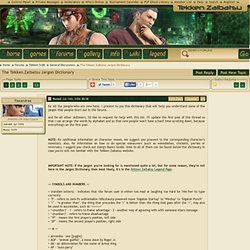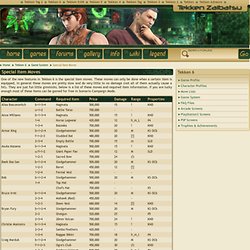 Tekken Zaibatsu - Tekken 6 - System - Special Item Moves
One of the new features in Tekken 6 is the special item moves.
Tekken Zaibatsu