Vegan
VEGAN substitutions and converting recipes to vegan. Virtually All meat is altered before it is eaten.
The final product is "what it is" through texture, spices and usually a high contact of fat, which isn't good for you in any form. (see side note below) so using a "meat" replacement should not be that big of a deal. I of course haven't tried all the substitutes out there so there might be even better ones, since I found these. The ones I list here are the ones that I use in my recipes, and have fooled many a meat eater with them! Which candies are vegan? Raw Holiday Pecans. The following is adapted from an article by Carissa Leventis-Cox of Mama in the Kitchen, and she ain't cookin'!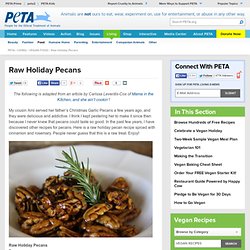 My cousin Ami served her father's Christmas Garlic Pecans a few years ago, and they were delicious and addictive. I think I kept pestering her to make it since then because I never knew that pecans could taste so good. In the past few years, I have discovered other recipes for pecans. Here is a raw holiday pecan recipe spiced with cinnamon and rosemary. People never guess that this is a raw treat. Accidentally Vegan. Grocery stores carry an array of great-tasting vegan options, including some items that you might not know are vegan.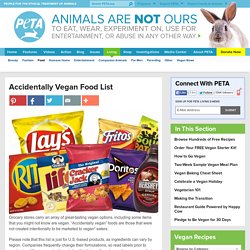 Many products, including fantastic faux franks; veggie burgers; chicken-free chicken patties; flavored soy, almond, and rice milks; nondairy ice creams; and other sensational snacks, are marketed to vegetarians and vegans. There's also an abundance of chips, dips, cookies, candies, frozen pies, soups, and other mouth-watering items by mainstream food manufacturers that are also vegan. The Ultimate Vegan Baking Cheat Sheet. Recipes | That's So Vegan. Creamy Baked Artichoke Dip. The following article was written by Keegan Baur.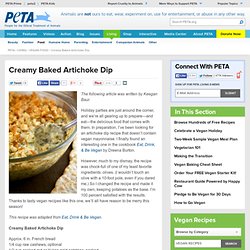 Holiday parties are just around the corner, and we're all gearing up to prepare—and eat—the delicious food that comes with them. In preparation, I've been looking for an artichoke dip recipe that doesn't contain vegan mayonnaise. I finally found an interesting one in the cookbook Eat, Drink, & Be Vegan by Dreena Burton. However, much to my dismay, the recipe was chock-full of one of my least favorite ingredients: olives. (I wouldn't touch an olive with a 10-foot pole, even if you dared me.) Rice Krispies with a secret ingredient. vegan. gluten free. Puffed Rice bars.. made the indian way.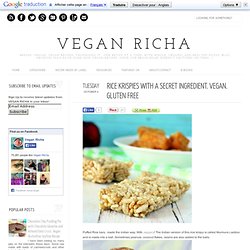 With Jaggery! The Indian version of this rice krispy is called Murmura Laddoo and is made into a ball. Sometimes peanuts, coconut flakes, raisins are also added to the balls. Vegan Halloween Spritz Cookies. It's finally October!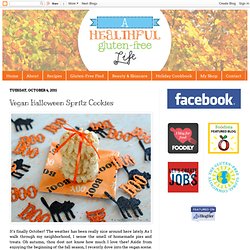 The weather has been really nice around here lately. As I walk through my neighborhood, I sense the smell of homemade pies and treats. Oh autumn, thou dost not know how much I love thee! Aside from enjoying the beginning of the fall season, I recently dove into the vegan scene. Surprisingly, vegan food is unbelievably flavorful! Dairy Free Coconut Panna Cotta and Vanilla Fig Syrup. Dairy Free Coconut Panna Cotta and Vanilla Fig Syrup This Dairy Free Coconut Panna Cotta and Vanilla Fig Syrup from Inspiring the Everyday (found via Teal and Tea) is almost too pretty to eat!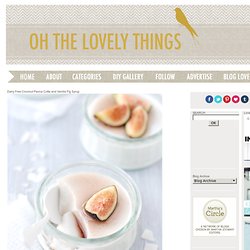 Find this recipe here, more dairy free desserts here, and a lot more of yummy looking recipes from "Inspiring the Everyday" here. 4 Ingredient Raw Lemon Pudding. Hubba, hubba, dairy-free recipes!
But before we get to that… How is it already Sunday? Raw desserts have become an integral part of my diet.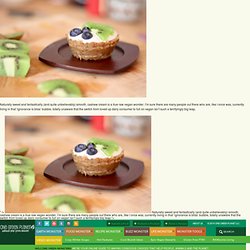 While I wouldn't go as far to say they are completely guilt free, they do carry a somewhat lesser burden than their sugar filled and usually horribly processed counterparts. It wasn't until I became vegan and started exploring whole foods in more depth that I came across raw cuisine. Can you believe I had never heard of such a thing? It amazes me to think I once lived in a bubble where I had very little understanding of food and nutrition. I often think back to those days and wonder how on earth I ever managed to stay relatively trim and fit; I have a feeling it would have caught up with me at some point -- bad diets have a habit of doing that! Pumpkin scones in the spring time | …but can she bake. How is it the end September already?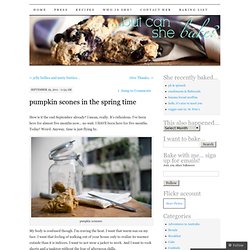 I mean, really. It's ridiculous. I've been here for almost five months now… no wait. I HAVE been here for five months. Jack-o-Pumpkin Breakfast Sandwich. It's been a while since I grilled up a vegan breakfast sandwich and my fall inspired mood was the perfect excuse to create a new recipe! My Jack-o-Pumpkin Breakfast Sandwich is stacked tall with savory sweet flavors throughout. Sweet maple pumpkin butter is slathered on each grilled whole wheat English muffin. A thick patty of vegan breakfast sausage is grilled with an accent of black pepper and olive oil. Some earthy grilled mushrooms are piled on top of the oozing vegan Monterey Jack cheese. Ode to Lentils…and a "Bread" Invention. September 25, 2011 at 5:11 pm The first time I had lentils was at my best friend Holly's house in middle school (taking me back a couple years!).
That's the same house where I discovered my love for Persian food…oh wow, so good! My favorite dish her mom made was Adas Polo (rice, lentils, currants/raisins, spices and sometimes meat – chicken, ground lamb or beef)…I remember the taste to this day! I've never tried to make my own version of Adas Polo (thinking I could never come close to hers) but I have experimented with lentils in the last several years, particularly the past couple months.
For those that are unfamiliar with lentils, they are grouped with beans and peas as part of the legume family because they grow in pods. Yeasted Applesauce Whole Wheat Bread. When I was in grad school, one of my classmates who was in her mid thirties became a good friend of mine. She had told me once - "When you walk in to a room to do something and totally forget what it was when you get to the room, that is a sign that you are in mid thirties". I, who was in mid twenties at that time had laughed at it. But it is so true. Vegan Pumpkin Pie. Blueberry pumpkin hemp muffins. Sriracha and Peanut Butter Tofu. Nut Free Pumpkin Seed Granola. Pump up your Greens 'Creamed' Soup. Recipes — Cooking Ideas — Grilled Tofu With Spicy Black Bean Sauce— SFGate Food & Wine. » Fried Tofu w/ Spicy Ginger Sauce Diva Eats World.
Sweet Potato Soul: Red Cabbage Salad with Sweet Miso Dressing. Avocado Chickpea Salad | The Tie Dye Files. Miso-Curry Roasted Vegetbles with Tofu | Cate's World Kitchen. Mixed Vegetable Aviyal. Chap Chye (Mixed Vegetables Stew) Repollo guisado (Cabbage stew. Vegan Lentil Sloppy Joes | The Tie Dye Files. Aloo Chole « clookbook. Meat-LESS flavour-FULL Chilli | A Thrifty Foodie. Recipes — Cooking Ideas — Vegetarian Peanut Stew— SFGate Food & Wine.
Gluten free, Vegan Rose Water Cupcakes – peasoupeats.com. Pumpkin Spice HippieCakes | The Pursuit of Hippieness. Blueberry Apple Whole grain Cake. Vegan. Vegan Pancakes. Vegan macarons. Eggless Pasta Recipe. The Easiest Chocolate Cake Recipe in the World. Best Vegan Chocolate Fudge Brownie Ever! | Love Food Eat. Crystallized Beet Multigrain Thins! Vegan cookie.
---