Unbaked
The Tipsy Baker: Gourmet Today: roasted pears and candied celery. Right before we went to Boston last week, we had party with my uncle Luis, his wife Ana Maria, and my grandmother.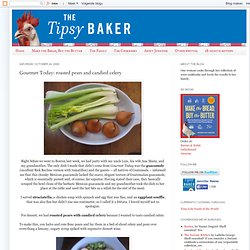 The only dish I made that didn't come from Gourmet Today was the guacamole (excellent Rick Bayless version with tomatillos) and the guests -- all natives of Guatemala -- informed me that this chunky Mexican guacamole lacked the suave, elegant texture of Guatemalan guacamole, which is essentially pureed and, of course, far superior. Having stated their case, they basically scraped the bowl clean of the barbaric Mexican guacamole and my grandmother took the dish to her place at the table and used the last bits as a relish for the rest of the meal. I served straciatella, a chicken soup with spinach and egg that was fine, and an eggplant souffle, that was also fine but didn't rise one centimeter, so I called it a frittata.
Sweet saturday: banana soft serve. It occurred to me during this week's Today's Eats post that I talk a lot about banana soft serve, but have never actually demonstrated how to make it.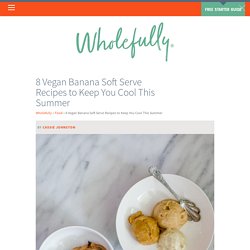 I guess I just assumed that it was common knowledge. Which is the problem with being in the healthy living blog community, we tend to assume everyone know what chia seeds and coconut water is, but truthfully, we're the freaks. Banana soft serve is absolutely one of my favorite healthy diet "tricks". It looks like ice cream.
It tastes like ice cream. Pear compote - by Carina. Drop Doughnuts Recipe. Apple cream, John Barry and Valentine's day. I have a nasty cold.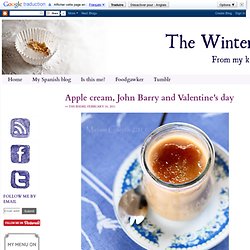 I am a wreck. And I do feel that way. This has not prevented me from feeling an urgent desire to make a dessert with apples though, being them one of my many addictions. Sea Salt Caramel Rice Krispie Treats | Dash of East. I hope you all are having a great Friday!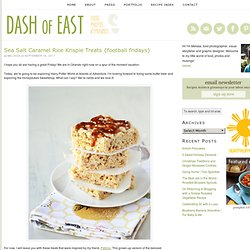 We are in Orlando right now on a spur of the moment vacation. Today, we're going to be exploring Harry Potter World at Islands of Adventure. Lemon Cream with Blackberries. White Peaches In Rose-Water Syrup. Food blogging started out as a curious little hobby but it is morphing into a very timing consuming affair.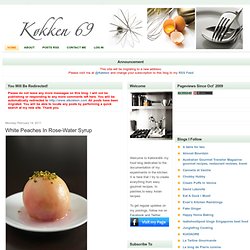 The essential 3 components : cooking,photographing and writing can take up a inordinate amount of my time. I have to be honest and admit that I am truly struggling to sustain the momentum while continuing to complete my work datelines. (the one that pays the bills!!) I continue to marvel at prolific bloggers who demonstrate clock-work regularity in their posting - some of whom have chocked up an enviable stash of back log which allows them to do auto-scheduled posting....
5-Ingredient Rice Crispy Treats. Going back to school?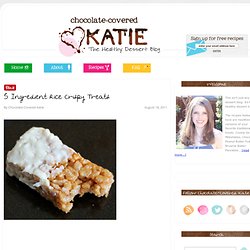 When I was growing up, I'd often find a rice crispy treat—in that infamous turquoise wrapper—packed into my school lunchbox. So rice crispy treats remind me of school… in a good way! No-bake, and they can be gluten-free! (Or you can make squares)
Pudding. Na Miotle » Icing is not difficult :) W ramach przerywnika między piernikami a porządkami powstał lukrowy domko-kościół.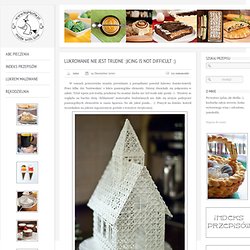 Przez kilka dni 'budowałam' z lukru poszczególne elementy. Dzisiaj doczekały się połączenia w całość. Tytuł wpisu jest trochę przekorny bo montaż dachu nie był wcale taki prosty :). Niestety ze względu na bardzo dużą 'delikatność' materiałów budowlanych nie dało się niczym podeprzeć poszczególnych elementów w czasie łączenia. No ale jakoś poszło… :). The Pastry Affair - Home - Brown Butter Rice Krispie Bars.
Today I ate a peanut butter and jelly sandwich.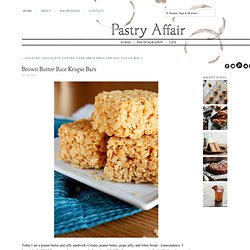 Creamy peanut butter, grape jelly, and white bread—transcendence. I haven't had a PB&J for years and oh it was good. Sometimes I feel like I've outgrown certain foods, like boxed macaroni and cheese, hotdogs, or PB&J. Steamed Chinese Lotus Buns Recipe 莲蓉包 (with Photo Tutorial) | Tastes of Home. I am so pleased to present today steamed Chinese lotus paste buns from my humble kitchen - I'm still a little surprised at how good they were since this was my first attempt at making steamed buns or pao/ bao at home, I guess with a bit of determination and a decent recipe, one can't go too far off the mark, yes even for a novice like yours truly.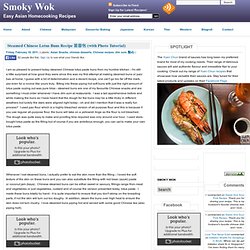 Biting into these piping hot soft buns with just the right amount of lotus paste oozing out was pure bliss - steamed buns are one of my favourite Chinese snacks and are something I must order whenever I have dim sum at restaurants. I was a tad apprehensive before and while making the buns as I have heard that the dough for the buns may be a little tricky in different weathers but luckily the stars were aligned right today - oh and did I mention that it was a really fun process? Healthy & raw pineapple dessert | NatureInsider.com. I have some great news to share – my niece is coming to visit us for a month and this time she is bringing her boyfriend with her!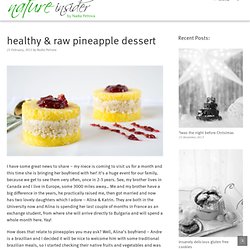 It's a huge event for our family, because we get to see them very often, once in 2-3 years. See, my brother lives in Canada and I live in Europe, some 3000 miles away… Me and my brother have a big difference in the years, he practically raised me, then got married and now has two lovely daughters which I adore – Alina & Katrin.
---