Cookie
Funfetti Bars
From my experience I've found that there are few desserts more universally liked than Funfetti Cake.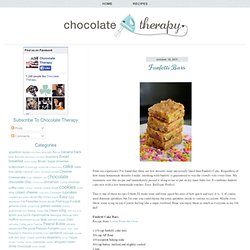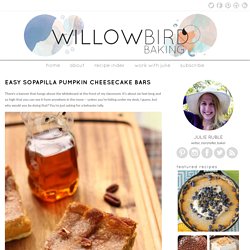 There's a banner that hangs above the whiteboard at the front of my classroom. It's about six feet long and so high that you can see it from anywhere in the room — unless you're hiding under my desk, I guess, but why would you be doing that?
Easy Sopapilla Pumpkin Cheesecake Bars | Willow Bird Baking
Savoiardi, or Ladyfingers Italian Style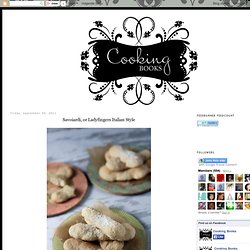 I have had a bear of a time with ladyfingers.
jasmine + pandan macarons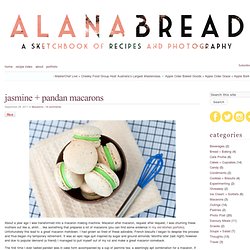 About a year ago I was transformed into a macaron making machine. Macaron after macaron, request after request, I was churning these mothers out like a, ahhh… like something that prepares a lot of macarons (you can find some evidence in my old kitchen porfolio). Unfortunately this lead to a great macaron meltdown. I had grown so tired of these adorable, French biscuits I began to despise the process and thus began my temporary retirement. It was an epic rage quit inspired by sugar and ground almonds.
Blog Archive » Recipe: Chewy Ginger Chocolate Chip Cookies
"Do you know what your problem is? " Steve Martin's Ohioan character in the 1999 remake of The Out-of-Towners asks a group of advertising executives in New York City struggling to come up with a slogan for tourism. Then he answers his own question, "You live here – you're jaded."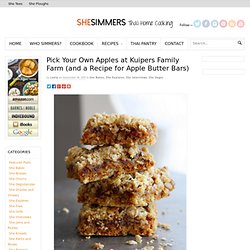 Pick Your Own Apples at Kuipers Family Farm (and a Recipe for Apple Butter Bars)
I am sitting here looking at this plate of deliciousness…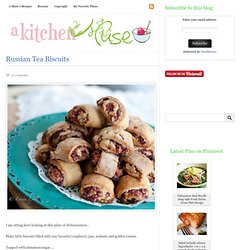 Russian Tea Biscuits | A Muse in My Kitchen
Pecan Lace Sandwich Cookies with Orange Buttercream: Recipe
Pumpkin Cream Cheese Bars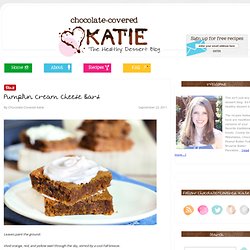 Leaves paint the ground. Vivid orange, red, and yellow swirl through the sky, stirred by a cool Fall breeze. Monet's paintbrush.
Hungry Rabbit – Blueberry 'Pop' Cookies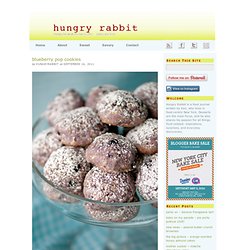 The taste of blueberry–and the desire for it–still lingers since we got back from Ogunquit, Maine.
Recipes — Cooking Ideas — Lime Meltaways— SFGate Food & Wine
Recipes — Cooking Ideas — Classic Unsweetened-Chocolate Brownies— SFGate Food & Wine
Gather a few soda cans, a loaded stapler a ruler, a carpet knife, and some strong shears. My cutters took about one can per shape.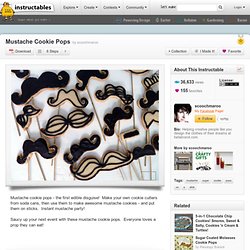 Mustache Cookie Pops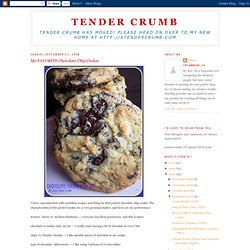 I have experimented with countless recipes searching for that perfect chocolate chip cookie.
Good Thymes and Good Food: Blueberry Cheesecake Bars
With blueberry season quickly coming to an end I had the strong urge to baking with blueberries one last time. As soon as I saw these on Jen's blog a few weeks ago I knew that they would be a hit.
http://www.passionateaboutbaking.com/2011/02/baking-strawberry-whipped-lemon-curd-napoleans-%e2%99%a5happy-v-day%e2%99%a5.html
"Gastronomy is and always has been connected with its sister… …art of love."
Holiday Biscotti with Cranberries and Pistachios Recipe at Epicurious
photo by Pornchai Mittongtare
Recently I was searching for a dessert which would be saying 'Good-Bye!'
Caramel Apple Cheesecake Cookie Bars
Dried Cherry and Pistachio Biscotti
Raspberry Lemonade Bars » Annie's Eats
Brown Rice Snack Bars | Handle the Heat
{dErnièRe cUeiLLeTtE ...} - Leplaisirdesmets
Lemon Anise Snowflakes | Wild Yeast
Hazelnut Sandwich Cookies
Pizzelles