Mandana's pearls
The set of 12 Simple Machines Sets, is our best value class pack option, with enough sets to involve your whole class in the hands-on learning of Gears, Levers, Pulleys, Wheels and Axels. Each Simple Machines Set can create eight mechanical models and eight double-sided, full-colour … [more] building instructions.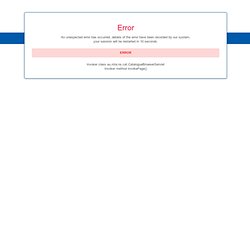 LEGO Simple Machines - Science
Featured Programs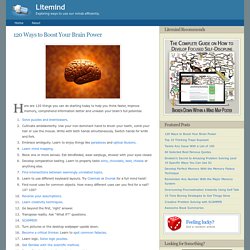 H ere are 120 things you can do starting today to help you think faster, improve memory, comprehend information better and unleash your brain's full potential. Solve puzzles and brainteasers . Cultivate ambidexterity. Use your non-dominant hand to brush your teeth, comb your hair or use the mouse. Write with both hands simultaneously. Switch hands for knife and fork.
Making Science Visible
Visionlearning
Medical physics teaching resource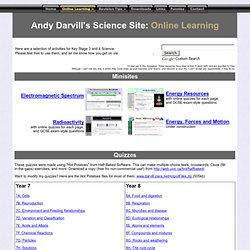 GCSE Science for the 21st century I plan to cover all of these topics eventually. Unless you have ones of your own you'd like to send me? Year 10: Biology Topic B1: You and your Genes Topic B2: Keeping Healhy Topic B3: Life on Earth Year 10: Chemistry Topic C1: Air Quality Topic C2: Material choices Topic C3: Food Matters Year 10: Physics Topic P1: The Earth in the Universe Topic P2: Radiation and Life Topic P3: Radioactive Materials Year 11 Additional Science: Biology Topic B4: Homeostasis Topic B5: Growth and Development Topic B6: Brain and Mind
Andy Darvill's Science site: Online Learning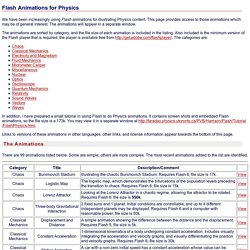 We have been increasingly using Flash animations for illustrating Physics content. This page provides access to those animations which may be of general interest. The animations will appear in a separate window. The animations are sorted by category, and the file size of each animation is included in the listing. Also included is the minimum version of the Flash player that is required; the player is available free from http://get.adobe.com/flashplayer/ .
futureeinsteins - Members
See Math tricks on video at the Wild About Math! mathcasts page. Being able to perform arithmetic quickly and mentally can greatly boost your self-esteem, especially if you don't consider yourself to be very good at Math. And, getting comfortable with arithmetic might just motivate you to dive deeper into other things mathematical. This article presents nine ideas that will hopefully get you to look at arithmetic as a game, one in which you can see patterns among numbers and pick then apply the right trick to quickly doing the calculation. The tricks in this article all involve multiplication.