Lists
Best Albums of 2011 (so far) | Music For Kids Who Can't Read Good: Denny's is for winners. July 1, 2011 photo via cubagallery We're halfway through 2011 which means it's time for the annual mid-year recap of the best albums of the year so far.
If there's a theme for 2011 so far it's been defying the sophomore slump with Fleet Foxes, Bon Iver, The Antlers, Lykke Li, STRFKR and The Rural Alberta Advantage all providing some of the best music of the year. S 50 Coolest Albums Of All Time - Music. The 50 Coolest Albums ever What, no insert-name-of-favourite-band-here?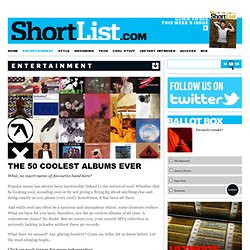 Popular music has always been inextricably linked to the notion of cool. Top 10 Ron Wood Rolling Stones Songs. Rolling Stones guitarist Ron Wood celebrates his 64th birthday today (June 1), and we're using that as our excuse to examine 10 of his best recorded moments with the legendary group.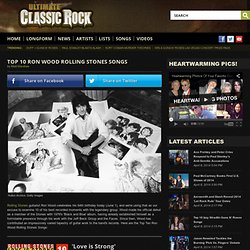 Wood made his official debut as a member of the Stones with 1976's 'Black and Blue' album, having already established himself as a formidable presence through his work with the Jeff Beck Group and the Faces. Since then, Wood has contributed an impressively varied tapestry of guitar work to the band's records. Here are the Top Ten Ron Wood Rolling Stones Songs: 'Love is Strong' From 'Voodoo Lounge' (1994) Top 50 Folk Rock Songs of the 90s - All things 90s and Indie Rock.
Top '80s Indie Bands. Mink DeVille, Willy DeVille.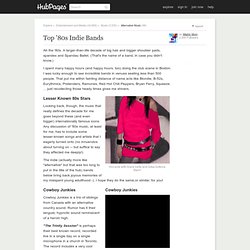 Is it a band? Is it an artist? Yes. Indie Folk Rock. Todays Recommended Playlist: 1.Eyes Of 99 - A Place Without Time Music that truly takes you somewhere special.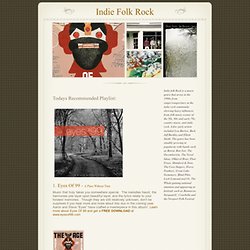 Great Indie Cover Songs, Vol. IX: The Black Keys, The Golden Bloom, Ruby Isle, Shearwater, Franz Ferdinand, Nada Surf - Indie Rock Cafe. On their awesome 2004 album, 'Rubber Factory,' The Black Keys covered The Kinks' "Act Nice & Gentle" We absolutely love cover songs.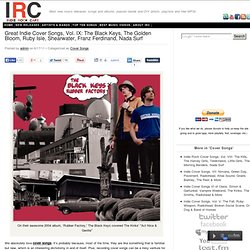 It's probably because, most of the time, they are like something that is familiar but new, which is an interesting dichotomy in and of itself. Plus, recording cover songs can be a risky venture for almost any artist; the more well-known and beloved the original song, the more scrutinized any cover song will be. On the most part, at least in our experience, most cover songs just do not work, and others are absolutely dreadful. But there are others that stick out. Stargazing Vol.2... THE MONDAY LIST #15: Emma Turns 20 | Someones In The Wolf. This is a special Monday List to celebrate one of my best friends birthday.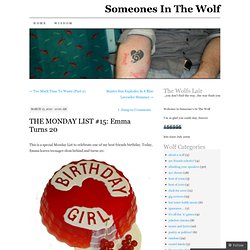 Today, Emma leaves teenager-dom behind and turns 20. So to celebrate here's 20 random facts (in no certain order) about Emma and some songs to go along with them. 1. She's a vegetarian MP3: The Knife – Vegetarian Restaurant. 12 Must-Listen Albums of 2011 | Sunset in the Rearview. Happy 4th of July, everybody!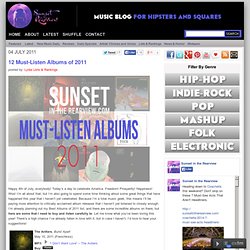 Today's a day to celebrate America. Freedom! Prosperity! Happiness! Woo! Song of the Day: Goldmund - Evelyn. Every Monday through Friday, we deliver a different song as part our Song of the Day podcast subscription.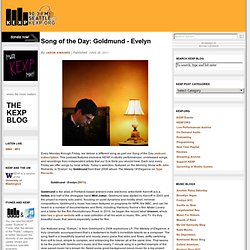 This podcast features exclusive KEXP in-studio performances, unreleased songs, and recordings from independent artists that our DJs think you should hear. Each and every Friday we offer songs by local artists. Lists - Ultimate Classic Rock. We look at some of our favorite inspirational songs that we use when we need to be uplifted.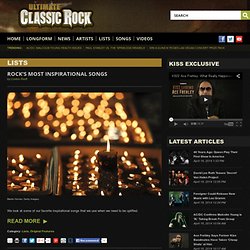 Read More We countdown our favorite songs by Ritchie Blackmore's first post-Deep Purple band. Top 10 Albums of 2011. The top albums of 2011 find a diverse group of classic rockers seeking to expand their already impressive resumes by making new music. It's a risky proposition, since the results are sure to be compared to their most popular albums, but we think you'll find a strong collection of legacy-enhancing records on our Top Albums of 2011 list: 'Eclipse' may take hardcore Journey fans a bit longer to warm up to than some of their classic '80s albums, but judged on it's own merits it succeeds quite nicely.
'Eclipse' is heavy on the Neal Schon side of the scope, with lots of guitars and less of the pop-influenced sound that marked the band's ultra-successful era. An eclipse is described as the total or partial obscuring of one celestial body by another, and it seems that once Journey found the sound that would help them move on from their past, they titled their art accordingly. Thirty-plus years later, and Blondie can still pack 'em in on a dance floor.
---