Drinks
Nutella embodied in a Shot. It's no secret… I'm a big fan of the Chocolate-Hazelnut flavor combination.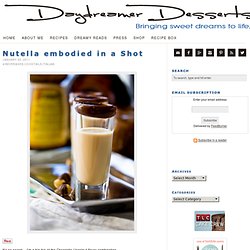 So far I've used this flavor profile to make these cookies… as well as these… I've also used it to frost a cake… to add a little "PZAZZ!" To a cheesecake… Skittles Vodka Tutorial : Mix That Drink. Cocktail Guide - AMC. Nutella-shot-recipe-0 from luuux.com. Squirtle, Wartortle, Blastoise (Pokemon Shot and... Squirtle, Wartortle, Blastoise (Pokemon Shot and Cocktails) Ingredients: Squirtle-1/3 shot spiced rum1/3 shot coconut rum1/3 shot blue curacao Wartortle-1/2 shot spiced rum1/2 shot coconut rum1/2 shot blue curacaoFill with Mountain Dew Voltage Blastoise-1 Squirtle1 Wartortle1 shot light rumFill with Mountain Dew Voltage Directions: For the Squirtle shot, simply pour all three ingredients into a shot glass.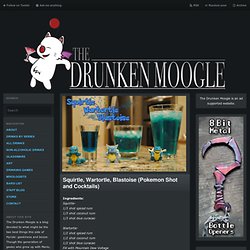 For the Wartortle cocktail, shake the alcoholic ingredients, pour over crushed ice in a lowball glass, then fill with Mountain Dew Voltage. Strawberry Lassi. The end of last week was brutal and unbearable.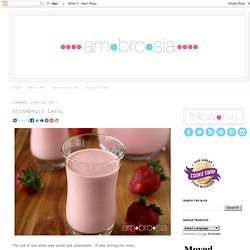 It was driving me crazy. I'm referring to the absolutely ridiculous heat wave that struck New York on Thursday, Friday, and Saturday. Temperatures rose to well over 100°F, and the humidity in the air only made things feel even worse. I dread when the temperature goes past 85°F, so this was just madness. Italian Hot Chocolate | C'est La Vegan. When I lived in London my friends and I found a little Italian cafe in Soho that served the most amazing hot chocolate.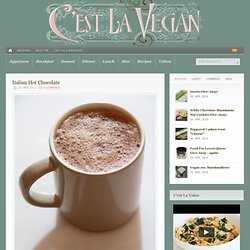 It was really rich and thick – almost like a chocolate pudding before it sets up all the way. I think about that hot chocolate all the time, so you can imagine how excited I was when I came across this recipe for "Cioccolata Calda" (Hot Chocolate Italian-Style). It was drizzling and chilly here yesterday – the perfect excuse to make a nice hot drink.
---