FFT
Article 10 Category. Digital signal processing (DSP) software development. Abstract.
Fast Fourier transform — FFT — Librow — Software development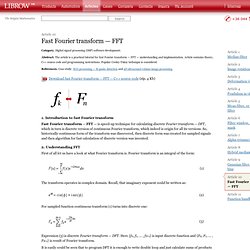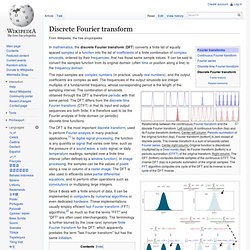 Discrete Fourier transform
Relationship between the (continuous) Fourier transform and the discrete Fourier transform. Left column: A continuous function (top) and its Fourier transform (bottom). Center-left column: Periodic summation of the original function (top). Fourier transform (bottom) is zero except at discrete points.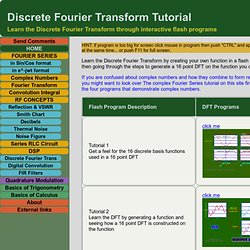 <object classid="clsid:D27CDB6E-AE6D-11cf-96B8-444553540000" codebase="http://download.macromedia.com/pub/shockwave/cabs/flash/swflash.cab#version=9,0,28,0" width="900" height="100"><param name="movie" value="../headerpic.swf" /><param name="quality" value="high" /><embed src="../headerpic.swf" width="900" height="100" quality="high" pluginspage="http://www.adobe.com/shockwave/download/download.cgi?
Discrete Fourier Transform Tutorial
The DFT "à Pied": Mastering The Fourier Transform in One Day : The DSP Dimension Posted by Bernsee on September 21, 1999 · 65 Comments If you're into signal processing, you will no doubt say that the headline is a very tall claim. I would second this.