Τέχνες art
Hanging herb garden. Make a hanging herb garden Spinach, cabbage, cherry tomatoes, granadilla, rhubarb, and a few others are vegetables that I normally want on the spur of the moment, and it would be nice to have my own fresh supply growing in the garden.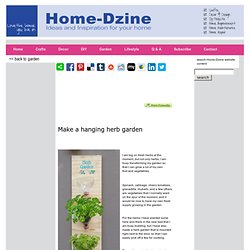 For the herbs I have planted some here and there in the new bed that I am busy building, but I have also made a herb garden that is mounted right next to the door, so that I can easily pick off a few for cooking. The wall-mounted herb garden is a modification on a previous project and uses recycled materials that were lying around: You will need:
%CE%B4%CE%B9%CE%B1%CE%BA%CE%BF%CF%83%CE%BC%CE%B7%CF%84%CE%B9%CE%BA%CE%AD%CF%82-%CE%B9%CE%B4%CE%AD%CE%B5%CF%82-%CE%BC%CE%B5-%CF%80%CE%B1%CE%BB%CE%B9%CE%AC-%CF%80%CE%B1%CE%BD%CF%84%CE%B6%CE%BF%CF%85%CF%81%CE%B9%CE%B11. 20 Free Fonts Just Perfect for Retro and Vintage Designs. Awww, vintage and retro style designes are simply awesome.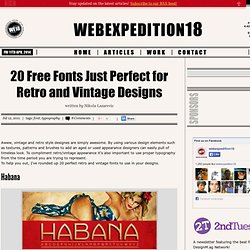 By using various design elements such as textures, patterns and brushes to add an aged or used appearance designers can easily pull of timeless look. To compliment retro/vintage appearance it's also important to use proper typography from the time period you are trying to represent. To help you out, I've rounded up 20 perfect retro and vintage fonts to use in your designs. I'm hoping that you found at least one new font to add to your collection. Governor. Μεσαιωνικοί χάρτες...οι μεγάλοι δημιουργοί. 14oς αιώνας Opicinus de Canistris, Παγκόσμιος χάρτης, 1296-1300 Angelino Dulcert.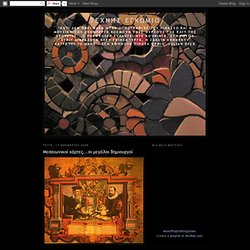 Aëla Labbé. The American Package Museum. The World of 100 : Toby Ng Design. The World of 100 If the world were a village of 100 people, what would its composition be?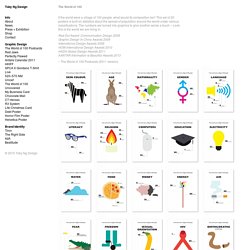 This set of 20 posters is built on statistics about the spread of population around the world under various classifications. The numbers are turned into graphics to give another sense a touch – Look, this is the world we are living in. Red Dot Award: Communication Design 2009 Graphic Design In China Awards 2009 International Design Awards 2009 HOW International Design Awards 2010 HKDA Global Design Awards 2011 KANTAR Information Is Beautiful Awards 2013. Tiny Media Empire. Woman stencils from The Stencil Library. Stencil catalogue quick view page 1. - StumbleUpon. I have been playing a lot with the Displace filter in Photoshop and I still get impressed with how powerful it is.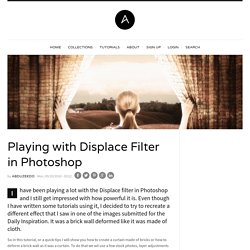 Even though I have written some tutorials using it, I decided to try to recreate a different effect that I saw in one of the images submitted for the Daily Inspiration. It was a brick wall deformed like it was made of cloth. So in this tutorial, or a quick-tips I will show you how to create a curtain made of bricks or how to deform a brick wall as it was a curtain.
---