Sounds
Today my first novel, Us Conductors, is published all across Canada. I won't be bothering you like this again until it is published in the United States in June. But I wanted to make sure you heard, you out there, old friends and kindred spirits and trespassers who strayed onto this blog looking for "girl legs" or "shi poem". Us Conductors is published by Random House of Canada, and you can order it via its website, or buy it in shops, or on iBooks or in kindletown, or you can come into my front garden and when spring comes I will sit out there with you and try to persuade you to buy it. Us Conductors is a kind of love story about Lev Sergeyvich Termen, inventor of the theremin, and Clara Rockmore, its greatest player. It's a novel about invention, memory, debt, airships, orchestras, Soviet spies, American ballerinas, Siberian taiga, electric singing, killer kung-fu, blue speakeasies, and responsibility.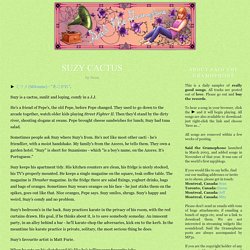 Said the Gramophone - an mp3 blog
Cannon Bros
Columbus - Daydreaming / Get By Live @ Cafe 939
How Many More Years
The Black Keys - Lonely Boy on Vimeo
Songs to wander (or wonder) to | peacebones | 1,742 likes | 15
Pop Punk Breakfast | matildawhiskey | 15 likes | 80 listens | 8tracks online radio
Premieres It's Friday so Let's Take Off Our Shirts and Dance to the New Video for Royce Wood Junior's "Hardly" The track comes from his debut EP 'Tonight Matthew,' out April 21. Dumbing for Drummies Building An Empire with SJC Drums The company started in the owner's grandma's basement. Now they make drums for Green Day. Canada's National Music Centre Is The Coolest Museum Ever Canada's unknown historic music vault is in the coolest museum ever.
NOISEY Warren Zevon - Excitable Boy
Empty Hearted Town - Warren Zevon
Andrew Bird
Bomb The Music Industry! - "Wednesday Night Drinkball" on Vimeo
Signals Midwest performing Family Crest on WRUW's Live From Cleveland
The Weeks - Steamboat