Sounds
The Speakers - "The Weaver". Finally a proper new album by the Speakers, who are from Philadelphia and Portland, who nine years ago released the magnificent record Yeats is Greats, whose rain- and sun-lashed folk music is the consummation of its genre. The Speakers evoke Sam Amidon and Espers, Mojave 3 and Radiohead, Simon & Garfunkel and Nicolas Jaar. Their music is gentle and persistent, deliberate as an ivy; horns, soft voices and banjo with a girding of reverb, drone and lap steel. For me it conjures a living city, a tree on the edge of flower, or maybe a thundercloud simply thrumming. Although there are some (very) rare moments of treacliness, most of The Saddest Quo is just abstruse enough, just clouded enough, that you can let it rest upon your heart.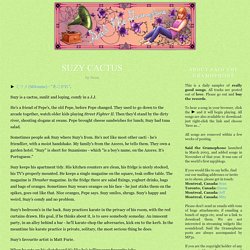 Said the Gramophone - an mp3 blog
Cannon Bros
Columbus - Daydreaming / Get By Live @ Cafe 939
How Many More Years
The Black Keys - Lonely Boy on Vimeo
Songs to wander (or wonder) to | peacebones | 1,742 likes | 15
Pop Punk Breakfast | matildawhiskey | 15 likes | 80 listens | 8tracks online radio
Premieres It's Friday so Let's Take Off Our Shirts and Dance to the New Video for Royce Wood Junior's "Hardly" The track comes from his debut EP 'Tonight Matthew,' out April 21. Dumbing for Drummies Building An Empire with SJC Drums The company started in the owner's grandma's basement. Now they make drums for Green Day. Canada's National Music Centre Is The Coolest Museum Ever Canada's unknown historic music vault is in the coolest museum ever.
NOISEY Warren Zevon - Excitable Boy
Empty Hearted Town - Warren Zevon
Andrew Bird
Bomb The Music Industry! - "Wednesday Night Drinkball" on Vimeo
Signals Midwest performing Family Crest on WRUW's Live From Cleveland
The Weeks - Steamboat