Lewis Carroll
Lewis Carroll. Lewis Carroll [pseudonym of Charles Lutwidge Dodgson] (1832-1898), English author, mathematician, and Anglican clergyman wrote Alice's Adventures in Wonderland (1865); Either the well was very deep, or she fell very slowly, for she had plenty of time as she went down to look about her and to wonder what was going to happen next….then she looked at the sides of the well, and noticed that they were filled with cupboards and book-shelves; here and there she saw maps and pictures hung upon pegs.
She took down a jar from one of the shelves as she passed; it was labelled 'ORANGE MARMALADE', but to her great disappointment it was empty: (Ch. 1) And thus begins Alice's fantastical adventures that have endured in their popularity for over a century, influencing contemporary authors, artists, musicians and inspiring adaptations to the stage and screen.
Lewis Carroll. Charles Lutwidge Dodgson (/ˈtʃɑrlz ˈlʌtwɪdʒ ˈdɒdʒsən/;[1][2] 27 January 1832 – 14 January 1898), better known by his pen name, Lewis Carroll (/ˈkærəl/), was an English writer, mathematician, logician, Anglican deacon and photographer.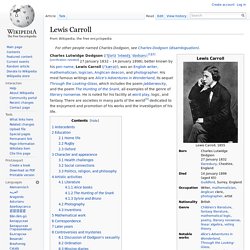 His most famous writings are Alice's Adventures in Wonderland and its sequel Through the Looking-Glass, as well as the poems "The Hunting of the Snark" and "Jabberwocky", all examples of the genre of literary nonsense. He is noted for his facility at word play, logic, and fantasy, and there are societies in many parts of the world (including the United Kingdom, Japan, the United States, and New Zealand[3]) dedicated to the enjoyment and promotion of his works and the investigation of his life. Alice's Adventures in Wonderland. Background[edit] Page from the original manuscript copy of Alice's Adventures Under Ground, 1864 Alice was published in 1865, three years after the Reverend Charles Lutwidge Dodgson and the Reverend Robinson Duckworth rowed in a boat, on 4 July 1862[4] (this popular date of the "golden afternoon"[5] might be a confusion or even another Alice-tale, for that particular day was cool, cloudy and rainy[6]), up the Isis with the three young daughters of Henry Liddell (the Vice-Chancellor of Oxford University and Dean of Christ Church): Lorina Charlotte Liddell (aged 13, born 1849) ("Prima" in the book's prefatory verse); Alice Pleasance Liddell (aged 10, born 1852) ("Secunda" in the prefatory verse); Edith Mary Liddell (aged 8, born 1853) ("Tertia" in the prefatory verse).[7] The journey began at Folly Bridge near Oxford and ended five miles away in the village of Godstow.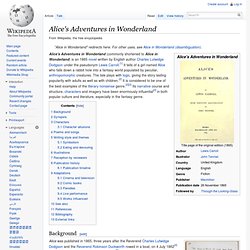 ---