ARTSCRAFTS
Le Tutotoro - un doudou-totoro-à-réaliser-soi-même. 1 - Commencez par découper les formes du patron fourni ci-dessus.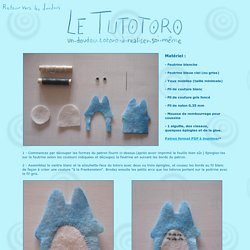 (après avoir imprimé la feuille bien sûr.) Epinglez-les sur la feutrine selon les couleurs indiquées et découpez la feutrine en suivant les bords du patron. Doc3.pdf (Objet application/pdf) Painted owl rocks !
MATERIEL
[ 17.02.2008 ] Doudou Chat 1er ! — Kitty Kréa. Et voila !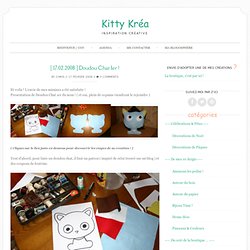 L'envie de mes mimines a été satisfaite ! Presentation de Doudou Chat 1er du nom ! ( et oui, plein de copains viendront le rejoindre ) ( Cliquez sur le lien juste en dessous pour decouvrir les etapes de sa creation ! ] 1251359487.jpg (Image JPEG, 768x1024 pixels) - Redimensionnée (62%) Septembre 2009. Creativebreathing.blogspot.com/2010/07/elizabeths-gnome-along-garland.html. Flying the Nest - Curly Birds. Busha Full Of Grace: Wheatgrass Easter Baskets. Several folks are interested in just HOW we created this natural Easter Basket filler.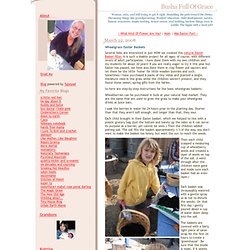 It is such a doable project for all ages; of course, with different levels of adult participation. I have done them with my own children and my students for about 20 years! If you are really eager to try it this year but Easter has passed, we have also done them in clay flower pot saucers and let them be the little "home" for little wooden bunnies and such. Sometimes I have purchased 6 packs of tiny violas and planted a single, miniature viola in the grass while the children weren't present, and they found these sweet, spring gifts from the fairies. Ou, que faire avec des emballages de café ? Regardez les images sont parlantes. Vous savez comme moi que les emballages en alu mettent des années, si pas des siècles à se dasagréger dans la nature, alors que faire ?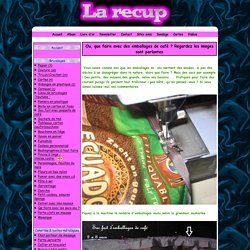 Mais des sacs par exemple ! Des petits, des moyens,des grands, selon vos besoins ... TeachKidsArt.
---