Social Media
Get flash to fully experience Pearltrees
Twitter has settled a lawsuit that will give the company control over the "tweet" trademark, according to a new report. Twitter doesn't currently own the trademark to the term. Instead, Des Moines-based Twittad controls the trademark. Twittad , a provider of sponsored advertising on Twitter, has trademarked its tagline, "Let your ad meet tweets." It also has trademarked various variations of the word "tweet." Twitter and Twittad have been in a legal struggle for years over the trademark.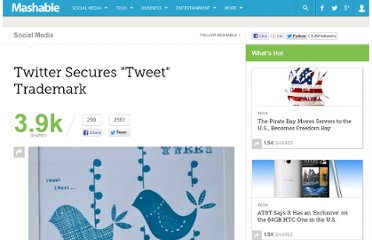 Welcome to a special edition of Platform Five – our weekly look at new and useful social media tools. This is the 15th of a weekly series, and this week we're taking a specific look at some new YouTube tools including two tools in YouTube's Test Tube centre that may have huge impact. Ready to press play? OK… 1. Work out what people are watching with YouTube Insights for Audience - Get your bookmark button ready, this is BIG!
Indie-rockers the Vaccines are debuting their new video for "Wetsuit," which was almost entirely crowdsourced from fan photos submitted through Instagram , the photo-sharing app for iPhone. The video follows a festival-goer in a red hoodie from daybreak to day-ending Vaccines concert. Other than brief video segments, the entire video is from Instagram.
This post originally appeared on the American Express OPEN Forum , where Mashable regularly contributes articles about leveraging social media and technology in small business. While social media has been around for a while, there are still aspects of it that are very new, such as policy development. Such policies have to stand the test of time and evolve as the workplace — and the social media platforms and their usage — changes. In August, the National Labor Relations Board (NLRB) released a report on the outcome of investigations into 14 cases involving the use of social media and employers' social media policies.
98% is one eye-opening statistic for any reader, but that's how many adults aged eighteen to twenty-four in the United States are reportedly using social media in a typical month. The study, conducted by consumer insight service Experian Simmons , estimates that roughly 129 million people — that's 41.37% of the total US population of 311.8 million — are using social media to stay in touch with both friends and family. These numbers only include those in the stated age bracket. 82% of users accessing social media in a typical month are aged 55-64, with around three quarters of online adults aged 65 and over. The report doesn't state exactly how these numbers were found, but Experian claims it uses leading technologies to format, cleanse and load data that is acquired directly from government sources and industry leading vendors.
Last week, Facebook unveiled a new public metric to gauge the success of a Facebook Page beyond its Like count. The feature, called "People Talking About," calculates user-initiated activities on a Page, including posts, comments, Likes, mentions, shares, poll votes, photo tags and checkins. Not surprisingly, those brands with the greatest number of Likes don't necessarily rank as highly against the new metric, according to data from Famecount . Here are the top ten consumer brand pages by Likes: