Facebook
Fb ads. FBmobile. Facebook actualité. Facebook, le World Wide Graph ? (with images) · smcfrance. Facebook a lancé les "sponsored stories" sur le service, qui permettent aux développeurs de mettre en place des campagnes de marketing viral web et mobile.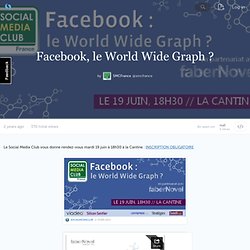 Le but est double pour Facebook : « être le principal expert en promotion d'applications ainsi que doper l'intégration de Facebook sur des applications externes ». Le développement de Facebook sur mobile passe aussi par l'exploitation des données utilisateurs sur la totalité des plateformes grâce à l'OpenGraph. La finalité de Facebook est « de stocker, ré-encoder et monétiser les informations des utilisateurs afin d'agir comme un Data Center de profils mondial qui aidera aux connexions et usages sur le net » termine Cyril Vart.
Applications mobiles socialisées, boucle virale, résultats de l'opengraph V2…Les derniers communiqués de Facebook. Le dernier Facebook Garage Developer du 19 avril 2012 a réuni au sein des locaux de France Télévision différents développeurs d'applications et acteurs du social media.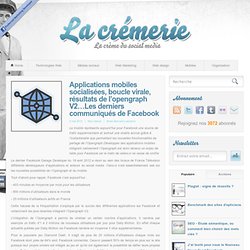 Celui-ci s'est essentiellement axé sur les nouvelles possibilités de l'Opengraph et du mobile. Tout d'abord pour rappel, Facebook c'est aujourd'hui : - 403 minutes en moyenne par mois pour les utilisateurs.
7 New Facebook Changes Impacting Businesses. Facebook pages are changing.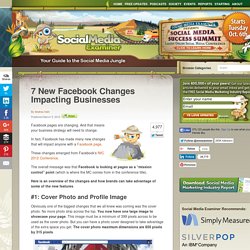 And that means your business strategy will need to change. In fact, Facebook has made many new changes that will impact anyone with a Facebook page. These changes emerged from Facebook's fMC 2012 Conference. Facebook Timeline for Business Pages – What The Changes Mean. The new Facebook Timeline page format So we all thought it was coming, but a week ago at Facebook's fmc2012 event, they introduced Timeline format pages for Businesses.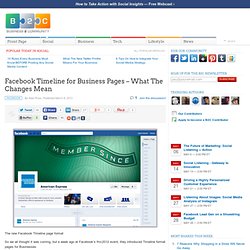 Having had time to review the implications, it's a MASSIVE change. In reality, probably the biggest change since business pages were introduced, and we're really looking foward to working through the creative possibilities for our clients. As there are lots of great in-depth guides out there, we decided to just provide a quick "highlights" run down for the time-poor, together with some links to the best of the indepth guides we've found so far.
---