Tutorials
What is a "Stop" of Exposure in Photography? Exposure is controlled by shutter speed, aperture, and ISO speed.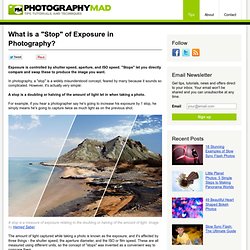 "Stops" let you directly compare and swap these to produce the image you want. In photography, a "stop" is a widely misunderstood concept, feared by many because it sounds so complicated. However, it's actually very simple: A stop is a doubling or halving of the amount of light let in when taking a photo. For example, if you hear a photographer say he's going to increase his exposure by 1 stop, he simply means he's going to capture twice as much light as on the previous shot.
GIMP Guru. Bibble Survival Guide. 10 Things I Learnt from Daily Shooting. Turn Your Photos into Beautiful Glass Etchings! Before printers spewed out photos on paper, photos were printed on glass!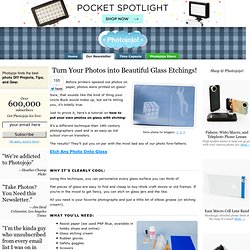 Sure, that sounds like the kind of thing your Uncle Buck would make up, but we're telling you, it's totally true. Just to prove it, here's a tutorial on how to put your own photos on glass with etching! It's a different technique than 19th century photographers used and is as easy as old school iron-on transfers. The results? They'll put you on par with the most bad ass of our photo fore-fathers. Crop Sensor (APS-C) Cameras and Lens Confusion. 3• You are here: BobAtkins.com > photography > tutorials > This Page Despite the fact that so called "crop sensor" digital SLRs have been with us since 1999 (the Nikon D1, with the Canon 30D following in 2000), there's still a huge amount of confusion out there about exactly what a "crop sensor" camera is and what effect is of using a lens with a crop sensor camera rather than a full frame camera.
The photography forums are full of confused newcomers still asking about focal length, field of view, aperture etc. The confusion isn't helped buy that fact that compact digicam lenses are often described by their manufacturers in terms of "equivalent" focal length, while their APS-C lenses are described in terms as actual focal length. For example the Canon website describes the Powershot G15 this way "The excitement starts with the newly developed 5x Optical Zoom with 28mm Wide-Angle, bright f/1.8 (W) – f/2.8 (T) lens". 16bit workflow with hugin. This tutorial doesn't cover reasons why you might want to shoot with RAW and stitch in 16bit format.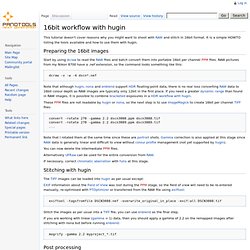 It is a simple HOWTO listing the tools available and how to use them with hugin. Preparing the 16bit images Start by using dcraw to read the RAW files and batch convert them into portable 16bit per channel PPM files. RAW pictures from my Nikon 8700 have a .nef extension, so the command looks something like this: dcraw -v -w -4 dscn*.nef. HDR Tutorial | High Dynamic Range Tutorial. HDR Tutorial – How to Make Beautiful HDR Photos with Ease!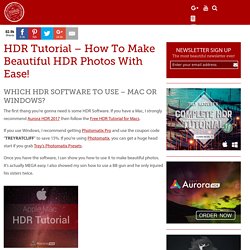 HDR Software – The Requirements The first thing to get is Photomatix Pro. To get started, visit the Photomatix page and use the coupon code "TREYRATCLIFF" to save 15%. This is an important piece of the puzzle! It is fun and simple HDR software to use – I will show you how. Flash - How do I stop my Canon Speedlite (430exii) from going to sleep? (auto power off) - Photography - Stack Exchange. 100 Websites to Teach Yourself Photography - Photography College. So you are thinking of taking up photography as a hobby.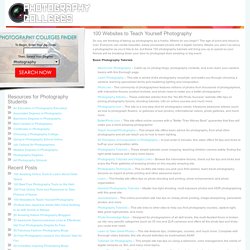 Where do you begin? The age of point and shoot is over. Flash Photography with Canon EOS Cameras - Part I. Flash Photography with Canon EOS Cameras - Part I.
Copyright © 2001-2013 NK Guy Version 1.8. 12 December, 2010. The invention and subsequent automation and miniaturization of electronic flash revolutionized photography. Camera tutorials and workshops by DSLR Tips. The blog of editorial photographer Zack Arias » White Seamless Tutorial :: Part 1 :: Gear & Space. Richard Avedon, Herb Ritts, and countless other great photographers have rocked the white background for decades.
I recently went to a huge bookstore here in Atlanta and counted the number of magazine covers shot with a simple white background like we are going to investigate here. 87 COVERS SHOT ON WHITE OR A VARIATION OF A WHITE BACKGROUND. Eighty-seven magazine covers at one book store. Its everywhere and it is everywhere because it is simple and effective and makes your subjects pop. It beats the bloody hell out of any wrinkled up grey/blue/brown muslin any day of the week.
10 Ways to Take Stunning Portraits. A Post By: Darren Rowse How do you take Portraits that have the 'Wow' factor?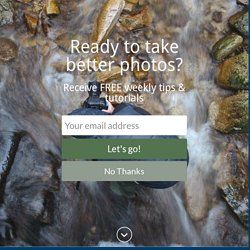 Today and tomorrow I want to talk about taking Portraits that are a little out of the box. You see it's all very well and good to have a portrait that follows all the rules – but it hit me as I was surfing on Flickr today that often the most striking portraits are those that break all the rules. I want to look at some ways to break out of the mold and take striking portraits by breaking (or at least bending) the rules and adding a little randomness into your portrait photography. I'll share ten of these tips today and a further ten tomorrow (update: you can see the 2nd part here). Digital Learning Center - Digital Photo Professional v3.2.
---