Photography
Get flash to fully experience Pearltrees
When diving into the world of Wedding Photography, you must have a plan and be prepared for anything. Like the very wedding you're going to shoot, you need to know what is going to happen, when and where it is going to happen and how it is expected to happen. But just when you think you've got it all figured out, you drop one of your lenses, or you've forgotten to charge your camera battery, or you left an entire bag of gear back at the studio, and you don't have a back-up plan! What are you going to do?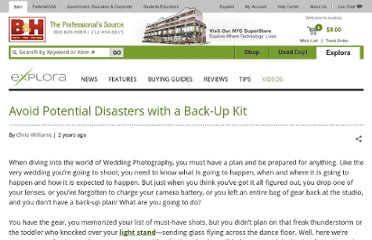 10K+ This is the first in a series of Posing Guide posts by Kaspars Grinvalds from Posing App See below for links to the full series of posing guides including for kids, men, couples, weddings and more.
The Metropolitan Police Service's approach towards photography in public places is a subject of regular debate. We encourage officers and the public to be vigilant against terrorism but recognise the importance not only of protecting the public from terrorism but also promoting the freedom of the public and the media to take and publish photographs. Guidance around the issue has been made clear to officers and PCSOs through briefings and internal communications.
(Above image copyrighted by Alex Majoli ) Bill Reeves , a passionate photographer who is fortunate enough to have Magnum photographers Eli Reed and Paolo Pellegrin as his mentors, told me about a blog post that Magnum had a while back regarding advice to young photographers .
I'm Rob, the editor of Light Stalking.
DSLR Controller is the first and only app that allows you to fully control your Canon EOS DSLR from your Android device with only a USB cable. No computer or laptop required, no root required, only a compatible mobile device, a compatible camera, and the right USB cable.