Graphics Card Issues
HardwareSupportComponentsVideoCardsNvidia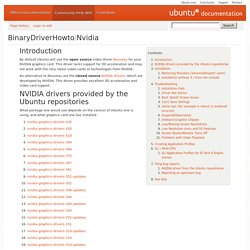 By default Ubuntu will use the open source video driver Nouveau for your NVIDIA graphics card. This driver lacks support for 3D acceleration and may not work with the very latest video cards or technologies from NVIDIA.
BinaryDriverHowto/Nvidia
Psensor - A Graphical Temperature Monitor 
If you're new here, you may want to subscribe to my RSS feed and if you have questions related to your ubuntu system post question to our forums.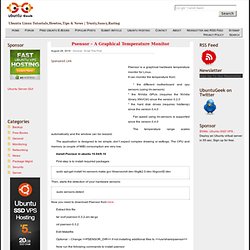 How to uninstall Video drivers from command line?
Unix Driver Archive Linux 32-bit ARM Latest Long Lived Branch version: 331.20 Latest Short Lived Branch version: 325.15Archive Linux x86/IA32 Latest Long Lived Branch version: 331.20 Latest Short Lived Branch version: 325.15 Latest Legacy GPU version (304.xx series): 304.117 Latest Legacy GPU version (71.86.xx series): 71.86.15 Latest Legacy GPU version (96.43.xx series): 96.43.23 Latest Legacy GPU version (173.14.xx series): 173.14.39Archive
Unix Drivers Portal Page