Mallangong
Gareth Batten
When it comes to clean ui design it doesn't get any cleaner than this. The control of gradients and highlights in this piece is very accomplished. Great work Haziq. The Ui Store is packed with Ui tools and premium quality design resources. The Pixel Snacks bundle is packed with 1000+ premium quality colorful design resources The Pixel Dropr plugin lets you create, use and share your own pixel collections.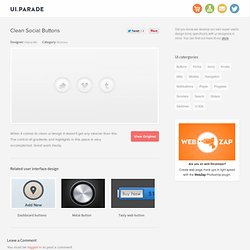 Clean Social Buttons
threads
The Night Sky March 2012 | Jodrell Bank Centre for Astrophysics
This page, updated monthly, will let you know some of the things that you can look out for in the night sky. It lists the phases of the Moon, where you will see the naked-eye planets and describes some of the prominent constellations in the night sky during the month. Highlights of the Month April - Saturn, the first of two good months Saturn in the late April Sky Saturn reaches opposition on the 28th April, so this is the first of two good two months to observe it.