Baking
Chocolate Chili Bites. On Saturday night, we had the pleasure of attending the fourth edition of the Paris Potluck, hosted by Alisa and her husband Jean-Yves.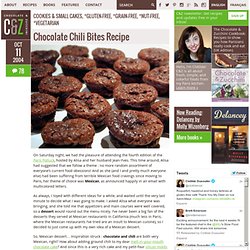 This time around, Alisa had suggested that we follow a theme : no more random assortment of everyone's current food obessions! And as she (and I and pretty much everyone else) had been suffering from terrible Mexican food cravings since moving to Paris, her theme of choice was Mexican, as announced happily in an email with multicolored letters. As always, I toyed with different ideas for a while, and waited until the very last minute to decide what I was going to make. I asked Alisa what everyone was bringing, and she told me that appetizers and main courses were well covered, so a dessert would round out the menu nicely. Tidsmästarinnan: kladdkaka till många.
Om man har många gäster är det smidigt med en kladdkaka i långpanna till efterrätten eller till kaffet.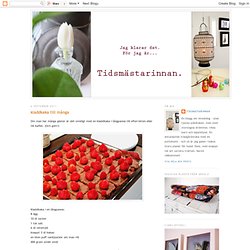 (Och gott!) Kladdkaka i en långpanna: 8 ägg 10 dl socker 1 tsk salt6 dl vetemjöl knappt 3 dl kakao en liten puff vaniljsocker om man vill 400 gram smält smör.
Cookies
Bread. Crusty Bread. I must begin by saying where the recipe originated, if in fact it originated anywhere...really.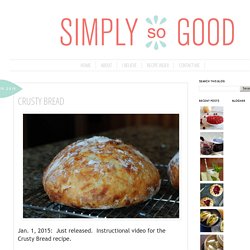 I think bread has been baked for centuries using flour, salt, water, and yeast or other form of leavening. As far as I know the recipe for "No-Knead" bread dough was printed in the New York times. I don't know what month, day, or year. The originator is Jim Lahey of Sullivan Street Bakery. That's all I know. Naan Recipe. Naan. Owning a dairy goat means having a lot of dairy products on hand at all times.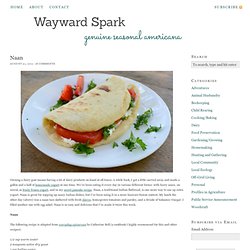 A while back, I got a little carried away and made a gallon and a half of homemade yogurt at one time. We've been eating it every day in various different forms: with berry sauce, on cereal, as fruity frozen yogurt, and in my secret pancake recipe. Naan, a traditional Indian flatbread, is one more way to use up extra yogurt.
Apple
The Fresh Loaf | News & Information for Amateur Bakers and Artisan Bread Enthusiasts. Grill Recipe: Flatbread Stuffed with Curried Potatoes, Spinach, and Chickpeas | Apartment Therapy The Kitchn. I'll make no claims to authenticity with this recipe.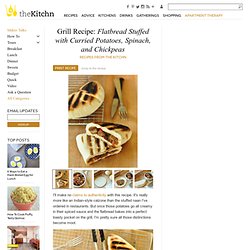 It's really more like an Indian-style calzone than the stuffed naan I've ordered in restaurants. But once those potatoes go all creamy in their spiced sauce and the flatbread bakes into a perfect toasty pocket on the grill, I'm pretty sure all those distinctions become moot.
Tips&Tricks
Cheddar and Leek Muffins | Apartment Therapy The Kitchn. Last night, our daughter's school held a lantern walk.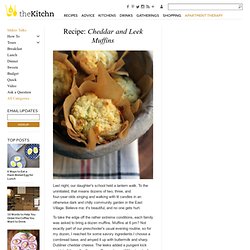 To the uninitiated, that means dozens of two, three, and four-year-olds singing and walking with lit candles in an otherwise dark and chilly community garden in the East Village. Believe me; it's beautiful, and no one gets hurt. To take the edge off the rather extreme conditions, each family was asked to bring a dozen muffins. Muffins at 6 pm? Not exactly part of our preschooler's usual evening routine, so for my dozen, I reached for some savory ingredients.I choose a cornbread base, and amped it up with buttermilk and sharp Dubliner cheddar cheese. Zucchini and Olive Breakfast Cake, French-Style | Apartment Therapy The Kitchn. If you're looking for a quick, make-ahead breakfast, try this.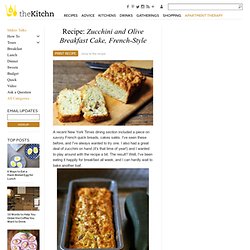 The bread keeps very well; my husband and I have been nibbling on this for breakfast for several days straight, and it still tastes fresh and moist. The extra eggs and olive oil in the bread also seem to make it a little more filling and substantial than your average morning quick bread. I'd like to try it toasted with a smear of hummus, too.
---