Wifi
NetGear 54MBPS WIRELESS PRINT SERVER (WGPS606) Browse the Dabs site and you'll find lots of cheap deals on a wide range of computers and electronics and with home delivery from as little as 99p you can get anything you order, big or small, delivered to your door.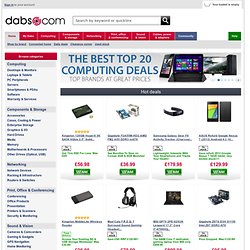 When you buy from Dabs you're buying from a Top Ten Shop, as awarded by the industry body, Hitwise for being one of the most popular shopping sites for computing products in the UK. dabs.com is the best choice for whatever your technology needs. On the Dabs site you'll find a wide range of computers from many of the leading manufacturers such as Apple, HP and Lenovo with everything from compact laptops and netbooks to powerful Gaming PCs. We've got lots of Desktop PCs available whether you're looking for a home PC, a Gaming PC or a compact Home Theatre PC (HTPC) for connecting to your television.
We also stock a wide range of computer components whether you want to upgrade your current desktop PC or build your own from scratch. Tips & Tricks for Wi-Fi Networking with Windows Vista. Learn ways to get around some of the networking annoyances in Windows Vista.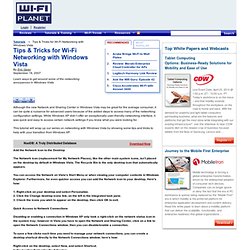 Although the new Network and Sharing Center in Windows Vista may be great for the average consumer, it can be quite a nuisance for advanced users because of the added steps to access many of the networking configuration settings. While Windows XP didn't offer an exceptionally user-friendly networking interface, it was quick and easy to access certain network settings if you knew what you were looking for. How to get your Wi-Fi working again | Reg Hardware. High performance access to file storage Plenty of people who link computers and other devices to the internet over a wireless network are finding they can no longer connect quite as easily as they once could.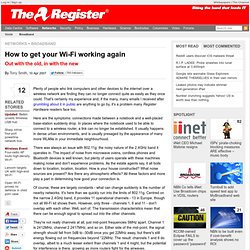 That's certainly my experience and, if the many, many emails I received after grumbling about it in public are anything to go by, it's a problem many Register Hardware readers face too. Here are the symptoms: connections made between a notebook and a well-placed base-station suddenly drop. In places where the notebook used to be able to connect to a wireless router, a link can no longer be established.
It usually happens in dense urban environments, and is usually presaged by the appearance of many more WLANs in your immediate neighbourhood. Netgear HDX101 200Mbps powerline Ethernet adaptor | Reg Hardware. Review It's a neat trick being able to transmit data around your home or office via the mains power wiring.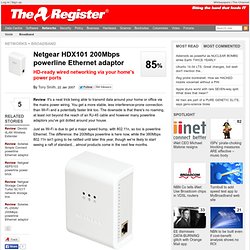 You get a more stable, less interference-prone connection than Wi-Fi and a potentially faster link too. The downside is that there's no roaming, at least not beyond the reach of an RJ-45 cable and however many powerline adaptors you've got dotted around your house. Main Page - WRT Wiki.
Wi-Fi Hotspot Security Tips. Wi-Fi hotspot is dangerous!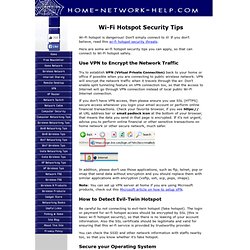 Don't simply connect to it! If you don't believe, read this wi-fi hotspot security threats.
---