Morning Coffee
The Publisher | Librarian Connection About EarlyWord. Welcome to EarlyWord.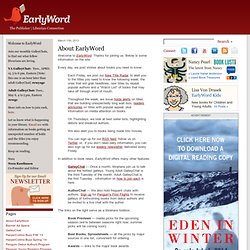 Thanks for joining us. Below is some information on the site. Every day, we post stories about books you need to know: Each Friday, we post our New Title Radar, to alert you to the titles you need to know the following week; the ones that will grab headlines, new titles by repeat popular authors and a "Watch List" of books that may take off through word of mouth.Throughout the week, we issue holds alerts on titles that are building unexpectedly long wait lists, readers advisories on titles with popular appeal, plus information on media attention on books.On Thursdays, we look at best seller lists, highlighting debuts and breakout authors.We also alert you to books being made into movies.You can sign up for our RSS feed, follow us on Twitter, or, if you don't need daily information, you can also sign up for our weekly newsletter, delivered every Friday. In addition to book news, EarlyWord offers many other features:
My Portfolio. Critical Hits. AusGamers News - AusGamers.com. WWdN: In Exile. GeekDad - Parents, Kids and the Stuff We Obsess About. ABC.net.au. Blastr.
---