Hardware
IO Rodeo Inc. | Smart lab technology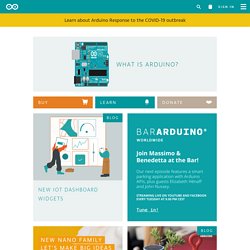 What Arduino can do Arduino can sense the environment by receiving input from a variety of sensors and can affect its surroundings by controlling lights, motors, and other actuators. The microcontroller on the board is programmed using the Arduino programming language (based on Wiring) and the Arduino development environment (based on Processing). Arduino projects can be stand-alone or they can communicate with software running on a computer (e.g. Flash, Processing, MaxMSP).
Recent Articles Information and Downloads on the Heartbleed Bug by Brandon C on April 17, 2014 The Heartbleed vulnerability allows an attacker to read random 64k blocks of memory of the service using OpenSSL (with TLS). Since every request delivers another 64k memory block an attacker could retrieve sensitive data from...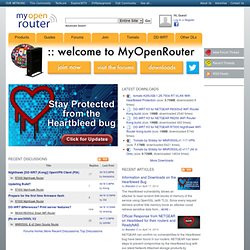 MyOpenRouter : The Premier Online Community for NETGEAR's WNR3500L & WGR614L Open Source Router - DD-WRT, OpenWRT, & Tomato Firmware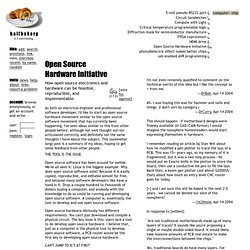 Open Source Hardware Initiative
As both an electrical engineer and professional software developer, I'd like to start an open source hardware movement similar to the open source software movement that has currently been happening. I've seen ideas similar to this from other people before, although not well thought out nor articulated correctly, and definitely not the same thoughts I have about the subject. This (somewhat long) post is a summary of my ideas, hoping to get some feedback from other people. Open source software has been around for awhile.
Village Telco » Mesh Potato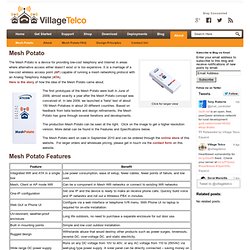 Mesh Potato Click for larger view The Mesh Potato is a device for providing low-cost telephony and Internet in areas where alternative access either doesn't exist or is too expensive. It is a marriage of a low-cost wireless access point (AP) capable of running a mesh networking protocol with an Analog Telephony Adapter (ATA).Here is the story of how the idea of the Mesh Potato came about.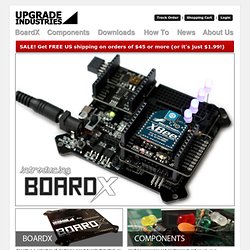 UPGRADE INDUSTRIES
BoardX is a collection of electronic circuit boards that stack on top of one another to share resources, communicate, and extend the functionality of one another. This system is built on the motherboard that acts as both an electrical and structural foundation. All functionality, including processors, come as add-ons. BoardX Starter Kit ADC-X Add-on AVR-X Add-on BoardX Motherboard XBee-X Radio Add-on FRAM-X Add-on PROTO-X Add-on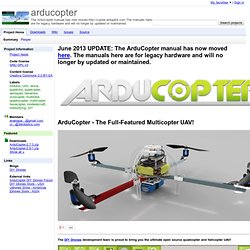 The DIY Drones development team is proud to bring you the ultimate open source quadcopter and helicopter UAV! ArduCopter's autopilot is based on APM 2, the most sophisticated IMU-based open source autopilot on the market. It provides full UAV functionality, with scripted waypoints, Ground Station and more.
Openmoko™ - Open. Mobile. Free.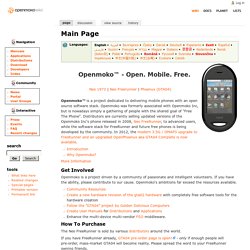 What is BeagleBone? Be sure to check out the new BeagleBone Black BeagleBone is an $89 MSRP, credit-card-sized Linux computer that connects to the Internet and runs software such as Android 4.0 and Ubuntu.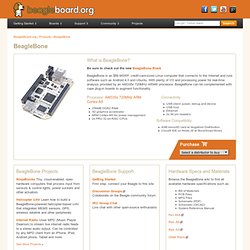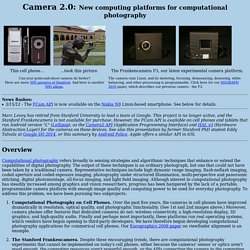 3/15/12 - The FCam API is now available on the Nokia N9 Linux-based smartphone. See below for details. Overview Computational photography refers broadly to sensing strategies and algorithmic techniques that enhance or extend the capabilities of digital photography. The output of these techniques is an ordinary photograph, but one that could not have been taken by a traditional camera. Representative techniques include high dynamic range imaging, flash-noflash imaging, coded aperture and coded exposure imaging, photography under structured illumination, multi-perspective and panoramic stitching, digital photomontage, all-focus imaging, and light field imaging.
Camera 2.0
Elphel, Inc. | Imaging solutions with Free software and open hardware
Imaging Solutions with Free Software and Open Hardware Elphel, Inc. was started in 2001 to provide high performance cameras based on free software and hardware designs. Freedom of the users of Elphel products is our top priority - we value and protect it with the GNU General Public License that covers all the Elphel software and hardware designs. In 2011 CERN Open Hardware License became available for hardware products and since then Elphel cameras are distributed under CERN OHLv1.1 or newer. This freedom extends from the convenience of the out-of-the-box usage of the cameras with the intuitive GUI to the possibility to modify any parts of them.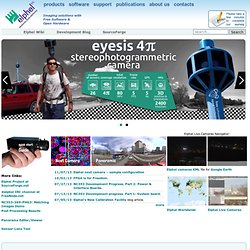 Yeeloong Notebook Loongson processor inside with MIPS architecture GNU/Linux OS and free free software