Free Manual
The Debian Administrator's Handbook. Debian 7 Edition 1 Copyright © 2003, 2004, 2005, 2006, 2007, 2008, 2009, 2010, 2011, 2012, 2013 Raphaël Hertzog Copyright © 2006, 2007, 2008, 2009, 2010, 2011, 2012, 2013 Roland Mas Copyright © 2012, 2013 Freexian SARL.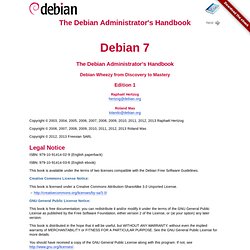 10 free Linux e-books. Posted in Tech blog on February 24th, 2012 by Pingdom Who doesn't like free stuff?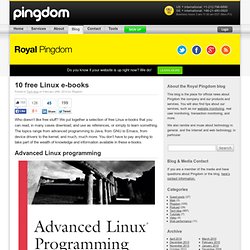 We put together a selection of free Linux e-books that you can read, in many cases download, and use as references, or simply to learn something. The topics range from advanced programming to Java, from GNU to Emacs, from device drivers to the kernel, and much, much more. You don't have to pay anything to take part of the wealth of knowledge and information available in these e-books. Advanced Linux programming. OpenStax College. Handbook. The FreeBSD Documentation Project Copyright © 1995-2014 The FreeBSD Documentation Project Last modified on 2014-03-23 by gjb.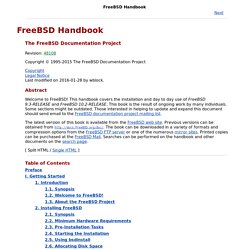 Abstract Welcome to FreeBSD! This handbook covers the installation and day to day use of FreeBSD 8.4-RELEASE, FreeBSD 9.2-RELEASE, and FreeBSD 10.0-RELEASE. Formation Debian GNU/Linux. Ebooks gratuits. Résultats de votre recherche de livre électronique sur www.livrespourtous.com.
---