Resources
25 Of The Best Pinterest Boards In Education. Blogs and Twitter aren't the only social tools out there that can help you keep up with the latest and greatest developments in educational technology.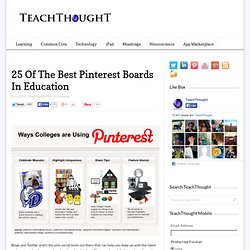 Pinterest is rapidly becoming a favorite tool of educators all over the nation, and many have amassed some pretty great collections of edtech-related pins that teachers and students alike can use to explore new ways to learn, share, teach, and grow. While it would be nearly impossible to highlight every edtech pinboard out there, we've shared some of the boards we think stand out among the crowd here. Many are maintained by major educational websites, key figures in edtech, and well-known bloggers, but others were created by teachers just like you who simply want to share resources and tips with others in education.
Copyright Friendly
Tools. Resources for specific subjects. Reviews. Posters. Songs. Apps To Help You Deal With Too Many Apps. When you see as many apps as we do at RWW, you begin to feel like it's all been done.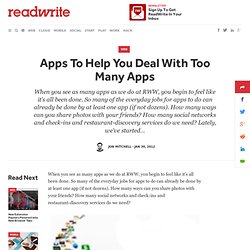 So many of the everyday jobs for apps to do can already be done by at least one app (if not dozens). How many ways can you share photos with your friends? How many social networks and check-ins and restaurant-discovery services do we need? Free online OCR. Educational Technology Guy: Free OCR - Optical Character Recognition (online service) | educational technology for teachers.
---