PLN & PD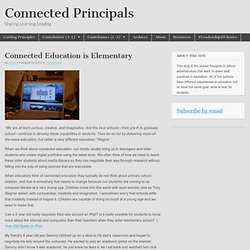 Connected Education is Elementary
"We are all born curious, creative, and imaginative.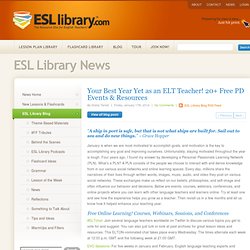 Your Best Year Yet as an ELT Teacher! 20+ Free PD Events & Resources
"A ship in port is safe, but that is not what ships are built for. Sail out to sea and do new things." ~ Grace Hopper January is when we are most motivated to accomplish goals, and motivation is the key to accomplishing any goal and improving ourselves. Unfortunately, staying motivated throughout the year is tough. Four years ago, I found my answer by developing a Personal/ Passionate Learning Network (PLN).
How do you feel you have developed as a teacher in the last 12 months? What has helped you?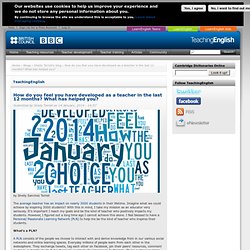 How do you feel you have developed as a teacher in the last 12 months? What has helped you? by Shelly Sanchez Terrell The average teacher has an impact on nearly 3000 students in their lifetime.
The 13 most-read posts from 2013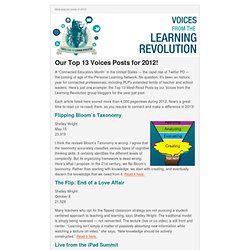 A "Connected Educators Month" in the United States — the rapid rise of Twitter PD — the coming of age of the Personal Learning Network. No question: It's been an historic year for connected professionals, including PLP's extended family of teacher and school leaders. Here's just one example: the Top 13 Most-Read Posts by our Voices from the Learning Revolution group bloggers for the year just past. Each article listed here scored more than 4,000 pageviews during 2012.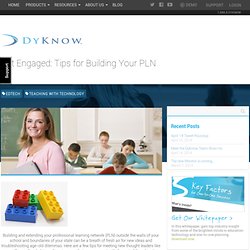 Building and extending your professional learning network (PLN) outside the walls of your school and boundaries of your state can be a breath of fresh air for new ideas and troubleshooting age-old dilemmas. Here are a few tips for meeting new thought leaders like yourself as well as helping others improve their engagement with the rest of the education technology world. What other events would you add? Do you have a favorite blog we should know about? Be sure to share your thoughts below!
Get Engaged: Tips for Building Your PLN | DyKnow
Power of a Positive Digital Footprint – A Personal Story
Joe Mazza — Educational Leadership 2.0
The Best Guides For Helping Teachers Develop Personal Learning Networks
Personal Learning Networks (PLN) is the phrase often used to describe connections that educators develop with other educators throughout the world by using online social media. I've previously written more specifically about how ESL/EFL teachers can best create this kind of network, but I thought it would be useful to bring together a broader collection of resources that could be used as guides by any educator. Please feel free to offer additional suggestions in the comments.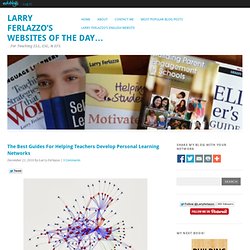 by Barbara IschingerDirector for Education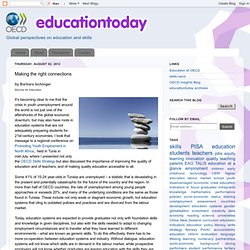 Making the right connections
#MentoringMonday An Article a Day…Might Just Save Your Teaching Life
Sunday Dialogue - Improving Our Schools
10 TED Talks That Could Be Used As Course Titles
I was perusing my morning Twitter stream and came across a few friends discussing the current state of course titles.
Google Plus, Chrome Apps and Tools gateway to knowledge in #education20: Complete #edtech20 guide to #googleplus in #education20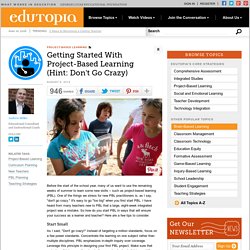 Before the start of the school year, many of us want to use the remaining weeks of summer to learn some new skills -- such as project-based learning (PBL). One of the things we stress for new PBL practitioners is, as I say, "don't go crazy." It's easy to go "too big" when you first start PBL.
Stacy BrownErin Olson, an English teacher in Iowa who is featured in our post, uses Twitter-like technology to enhance classroom discussion. Go to related 2011 article »
For 'Connected Educator Month,' Tips From 33 Educators We Admire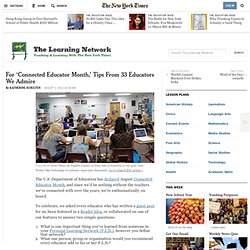 The Connected Educator
By Sheryl Nussbaum-Beach Finally! The cover to our book: The Connected Educator: Learning and leading in a Digital Age which comes out early Oct.
Connected Educator Month kicks off this week, and serving as a consultant to the event with significant responsibility especially for this week's events, I humbly think you're going to be BLOWN AWAY by the opportunities to learn and participate.
Connected Educator Month - Week One's Amazing Schedule!
Announcements - Pearson to develop frameworks for OECD's PISA student assessment for 2015
Posted by Therese on Thursday, August 2, 2012 It's never too late for a career change, which is why I am going to stop writing and get myself a job at Challenge Plumbing. "Whatever for?" I hear you ask, "For plumbing is not at all glamorous." I understand your concern, but I am not aiming for the mechanical or messy side of things. I want a job in their office answering the phone.
Piping Up : Thérèse Blogs
Carry on Learning: Naace 3rd millennium hothouse
Don't Try Too Hard
Noam Chomsky: Destroying the Commons: How the Magna Carta Became a Minor Carta
Why Open Education Matters
Kids Demand Next-Generation Learning
Education jargon: What 'no excuses' and other terms really mean - The Answer Sheet
Learning By Design at newlearningonline
A not so modest proposal: My new fully research based school!
Joel Klein, Sal Khan And Sebastian Thrun On Inventing The Future Of Education, At Disrupt SF
The Benefits of Taking Kids Outside to Inspire Writing