Web layout
Future Insights Live 2013 — Schedule. Determining a data storage solution as your web application scales can be the most difficult part of web development, and takes time away from developing application features.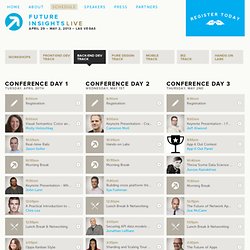 MongoDB, Redis, Postgres, Riak, Cassandra, Voldemort, NoSQL, MySQL, NewSQL — the options are overwhelming, and all claim to be elastic, fault-tolerant, durable, and give great performance for both reads and writes. This talk will describe these different storage solutions and explain what is really important when choosing a datastore — your application data schema and feature requirements. Master Responsive Web Design With Gridset. Let's face it, responsive design is hard work.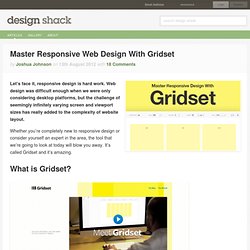 Web design was difficult enough when we were only considering desktop platforms, but the challenge of seemingly infinitely varying screen and viewport sizes has really added to the complexity of website layout. Whether you're completely new to responsive design or consider yourself an expert in the area, the tool that we're going to look at today will blow you away. It's called Gridset and it's amazing.
What is Gridset? Which Is Right for Me? 22 Responsive CSS Frameworks and Boilerplates Explained. CSS frameworks have been around for years now, but the arrival of responsive design practices has rendered many of our old favorites useless.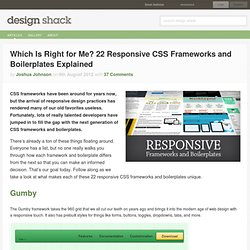 Fortunately, lots of really talented developers have jumped in to fill the gap with the next generation of CSS frameworks and boilerplates. There's already a ton of these things floating around. Everyone has a list, but no one really walks you through how each framework and boilerplate differs from the next so that you can make an informed decision. That's our goal today. Follow along as we take a look at what makes each of these 22 responsive CSS frameworks and boilerplates unique. La Moulade - Creative Studio. Create a Parallax Scrolling Website Using Stellar.js.
One of the biggest trends in recent modern web design is use of parallax scrolling effects.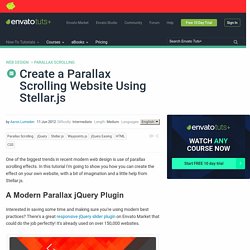 In this tutorial I'm going to show you how you can create the effect on your own website, with a bit of imagination and a little help from Stellar.js. Introduction The parallax scrolling effect has been popular ever since sites such as Nike's Better World introduced it on their websites a few years ago. About | Helen & Hard. About us Helen & Hard was founded in 1996 in Stavanger on the west coast of Norway by Norwegian architect Siv Helene Stangeland and Austrian architect Reinhard Kropf.
Today, the company has a youthful staff of 20 drawn from 8 different countries, with offices in both Stavanger and Oslo. We design in different scales and scopes, on a wide spectrum of projects ranging from single family houses to large public buildings, from offices and multi-family housing projects to master planning. We aim to creatively engage with sustainability, not only in the design of spaces, but also in the conception and organization of the design process, including construction and fabrication.
Our goal is move away from a solely technical and anthropocentric view, allowing the project to unfold in relation to its physical, social, cultural and economic context. Business Solutions Responsive Site Template - Flashmint 4370. Business Solutions Responsive Site Template can be used for any mobile-friendly business website creation, and can be a pledge of your future success and popularity.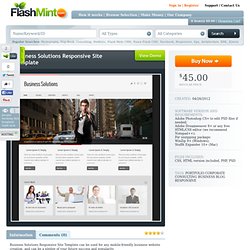 Features included: Responsive layout Lightweight Grid 960 jQuery enhanced Responsive Slideshows Google Web Fonts CSS3 effects Built-in contact form Easy to use Google Maps SEO optimized Greatly-organized CSS Easy customizable Pages: Homepage Typography Sidebar Right Sidebar Left Both Sidebars Lists and tables Breadcrumbs Buttons and HR Projects 1 Column Projects 2 Column Projects 3 Column Projects 4 Column Projects + Sidebar Blog: Right Sidebar Left Sidebar Both Sidebars Contact Don't be shy to ask us for help in case if you don't understand anything or have some problems.
We will be certainly glad to solve all your difficulties! Website Design work | Web Development Company. Experimental Page Layout Inspired by Flipboard. An experimental page layout that let's you navigate pages by swiping or dragging as in a booklet, inspired by Flipboard.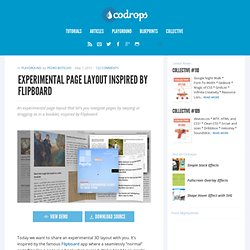 View demo Download source Today we want to share an experimental 3D layout with you. It's inspired by the famous Flipboard app where a seamlessly "normal" page flips like a page in a book when swiped. We've tried to re-create that effect using CSS 3D transforms and JavaScript, making a layout that is "flippable" and responsive. While the swiping makes sense for touch devices, dragging will do for normal browsers. Design to the Power of Three: The Magically Ubiquitous Number. Three is only a number, right?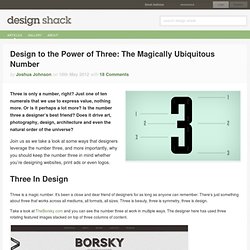 Just one of ten numerals that we use to express value, nothing more. Or is it perhaps a lot more? Is the number three a designer's best friend? Does it drive art, photography, design, architecture and even the natural order of the universe? Join us as we take a look at some ways that designers leverage the number three, and more importantly, why you should keep the number three in mind whether you're designing websites, print ads or even logos. 20 Inspiring Examples of Big Backgrounds in Web Design. One way to easily define the tone and mood of a website is to use a big background image.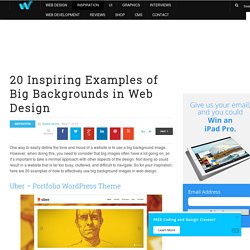 However, when doing this, you need to consider that big images often have a lot going on, so it's important to take a minmal approach with other aspects of the design. Not doing so could result in a website that is far too busy, cluttered, and difficult to navigate. 35 Navigation Menus for Your Design Inspiration. Navigation menus are an important part of any web design for usability purposes, but they can also serve to improve the look and feel of the website.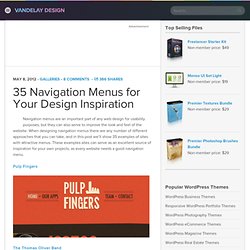 When designing navigation menus there are any number of different approaches that you can take, and in this post we'll show 35 examples of sites with attractive menus. These examples sites can serve as an excellent source of inspiration for your own projects, as every website needs a good navigation menu. Looking for hosting? Work - Rareview.
---