Mobile
20 best mobile sites
What's the best mobile phone? Our verdict on the best smartphone/best phones - constantly updated We've all got at least one mobile phone each, right?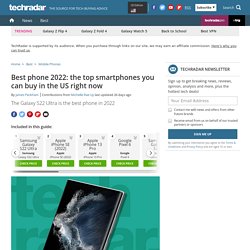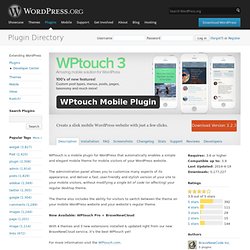 WPtouch is a mobile plugin for WordPress that automatically enables a simple and elegant mobile theme for mobile visitors of your WordPress website. The administration panel allows you to customize many aspects of its appearance, and deliver a fast, user-friendly and stylish version of your site to your mobile visitors, without modifying a single bit of code (or affecting) your regular desktop theme. The theme also includes the ability for visitors to switch between the theme on your mobile WordPress website and your website's regular theme. Now Available: WPtouch Pro + BraveNewCloud With 4 themes and 3 new extensions installed & updated right from our new BraveNewCloud service, it's the best WPtouch yet! For more information visit the WPtouch Pro 3 Product Page.
Why You Should Get Excited About Emotional Branding Globalization, low-cost technologies and saturated markets are making products and services interchangeable and barely distinguishable. As a result, today's brands must go beyond face value and tap into consumers' deepest subconscious emotions to win the marketplace. In recent decades, the economic base has shifted from production to consumption, from needs to wants, from objective to subjective. Embracing mobile platforms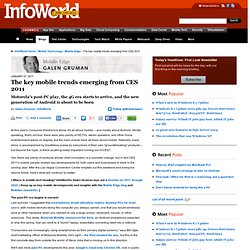 Key mobile trends 2011
At this year's Consumer Electronics Show, it's all about mobile -- and mostly about Android. Strictly speaking, that's not true; there were also plenty of HDTVs, stereo speakers, and other home entertainment wares on display, but the main events have all been about mobile. Naturally, every demo is accompanied by breathless praise by executives of their own "groundbreaking" products -- but beyond the hype, is there anything really important coming out of CES? Yes, there are plenty of products whose chief innovation is a cosmetic change, but in fact CES 2011's mobile parade reveals key developments for both users and businesses to track in the coming year.
This post originally appeared on the American Express OPEN Forum, where Mashable regularly contributes articles about leveraging social media and technology in small business. As an entrepreneur, you're most likely always on the lookout for new developments. Perhaps your customers are reporting that your site needs a mobile version so that they can visit it while they're on the go, or maybe you recently saw a competitor's site through your mobile device; it looked slick, and now you're feeling outclassed. The mobile web is burgeoning.
Rethinking the Mobile Web by Yiibu
iPhone - SwebApps