Mobile
20 best mobile sites
What's the best mobile phone? Our verdict on the best smartphone/best phones - constantly updated We've all got at least one mobile phone each, right?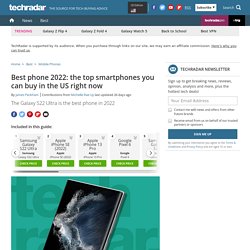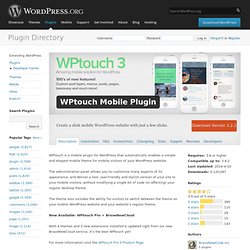 WPtouch automatically transforms your WordPress website for mobile devices, complete with ajax loading articles and smooth effects when viewed from popular mobile web browsing devices like the iPhone, iPod touch, Android mobile phones, BlackBerry OS6+ mobile devices, and more! The admin panel allows you to customize many aspects of its appearance, and deliver a fast , user-friendly and stylish version of your site to touch mobile visitors, without modifying a single bit of code (or affecting) your regular desktop theme. The theme also includes the ability for visitors to switch between WPtouch view and your site's regular theme.
Over the past few years, mobile web usage has considerably increased to the point that web developers and designers can no longer afford to ignore it. Embracing mobile platforms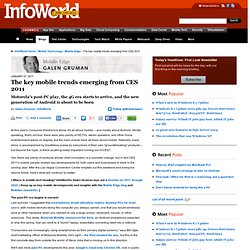 Key mobile trends 2011
At this year's Consumer Electronics Show, it's all about mobile -- and mostly about Android.
This post originally appeared on the American Express OPEN Forum , where Mashable regularly contributes articles about leveraging social media and technology in small business.
Rethinking the Mobile Web by Yiibu