Java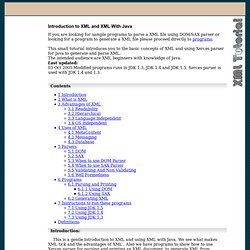 Tutorial, Introduction to XML and XML with Xerces for Java (updated for jdk 1.5 and xerces 2.7.1)
If you are looking for sample programs to parse a XML file using DOM/SAX parser or looking for a program to generate a XML file please proceed directly to programs . This small tutorial introduces you to the basic concepts of XML and using Xerces parser for Java to generate and parse XML. The intended audience are XML beginners with knowledge of Java. Last updated: 03 Oct 2005.Modified programs runs in JDK 1.3, JDK 1.4 and JDK 1.5. Xerces parser is used with JDK 1.4 and 1.3.
Most of the applications we use on daily basis are pluggable. Popular applications like Firefox, Eclipse, NetBeans, JEdit, WordPress, Hudson are all pluggable. In fact, pluggability has played a major part in the success of most of these applications.
Developing A Simple Pluggable Java Application | SolitaryGeek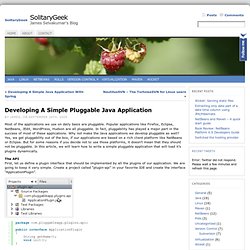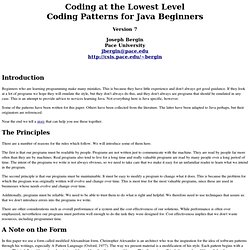 Version 7 Joseph Bergin Pace University jbergin@pace.edu http://csis.pace.edu/~bergin Introduction Beginners who are learning programming make many mistakes. This is because they have little experience and don't always get good guidance.
Coding Patterns
Java Blog Archive