Likes (photos/videos)
SHANE TATTOOS: Hanya Half Sleeve On Jacky. A Father Who Creatively Captures His Kids (20 photos) If there was a prize that could be given out to the most creative father, I'd hope that it was awarded to Jason Lee.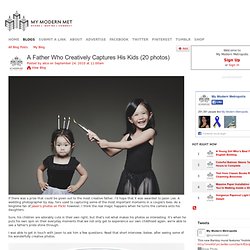 A wedding photographer by day, he's used to capturing some of the most important moments in a couple's lives. As a longtime fan of Jason's photos on Flickr however, I think the real magic happens when he turns the camera onto his daughters. Sure, his children are adorably cute in their own right, but that's not what makes his photos so interesting. It's when he puts his own spin on their everyday moments that we not only get to experience our own childhood again, we're able to see a father's pride shine through. I was able to get in touch with Jason to ask him a few questions. Suspending Water Without a Cup Trick - CollegeHumor Video. Demotivational posters. Like a Boss. The Final 3 - Amazing Math Card Trick - a Life &Style video.
Heaven On Earth (8 Pics) A former Cement Factory is now the workspace and residence of Ricardo Bofill... Image Courtesy of Ricardo Bofill Architect: Ricardo BofillProgram: Architectural offices /archives /model laboratory /exhibition space /Bofill's-apartment /guest rooms /gardensLocation: Barcelona, SpainTotal floor area: 3,100 square meters and gardensHouse area: 500 square metersDate Completed: 1975 There is nothing as good as an aged bottle of wine; and in this case the aged bottle of wine is a project which was completed in 1975, but is still worth mentioning!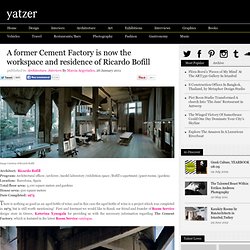 First and foremost we would like to thank our friend and founder of Room Service design store in Greece, Katerina Xynogala for providing us with the necessary information regarding The Cement Factory, which is featured in the latest Room Service catalogue. The Cement Factory was discovered in 1973, it was an abandoned cement factory and partially in ruins, comprised of over 30 silos, underground galleries and huge engine rooms; Ricardo Bofill bought it and began renovation works. Genius Part 3 [30 Pics] Crystal River - The most beautiful river on earth [Pics] Cano Cristales - Crystal River.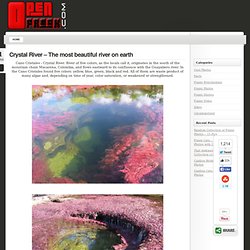 River of five colors, as the locals call it, originates in the south of the mountain chain Macarena, Colombia, and flows eastward to its confluence with the Guayabero river. In the Cano Cristales found five colors: yellow, blue, green, black and red. Free-scenery-wallpaper-1280x800-1004082.jpg from wallpaperstop.com.
---