Self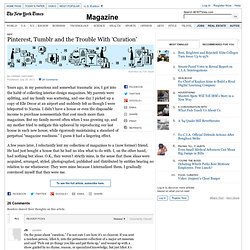 A few years later, I reluctantly lent my collection of magazines to a (now former) friend. He had just bought a house that he had no idea what to do with. I, on the other hand, had nothing but ideas. O.K., they weren't strictly mine, in the sense that these ideas were acquired, arranged, styled, photographed, published and distributed by entities bearing no relation to me whatsoever.
Pinterest, Tumblr and the Trouble With 'Curation'
Sci got an email from one of her lovely readers recently about an article that appeared in Scientific American . I usually have a lot of respect for Scientific American, but I have to say I feel they really dropped the ball on this one. So today, I present to you: what Sci Am said, the REAL story, and WTF is up with that. Let's take it from the top. Women's Brains on Steroids: Birth control pills appear to remodel brain structure
Women's Brains on Steroids?! WUT!?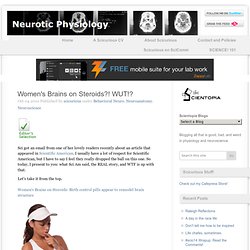 How Can I Possibly Be Free?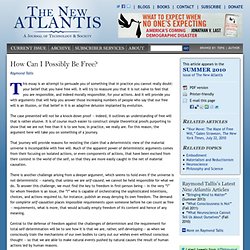 Raymond Tallis T his essay is an attempt to persuade you of something that in practice you cannot really doubt: your belief that you have free will. It will try to reassure you that it is not naïve to feel that you are responsible, and indeed morally responsible, for your actions. And it will provide you with arguments that will help you answer those increasing numbers of people who say that our free will is an illusion, or that belief in it is an adaptive delusion implanted by evolution. The case presented will not be a knock-down proof — indeed, it outlines an understanding of free will that is rather elusive. It is of course much easier to construct simple theoretical proofs purporting to show that we are not free than it is to see how, in practice, we really are.
Interview: Raymond Tallis | Books
If there were a statue of the Unknown Polymath it should look like Raymond Tallis: rangy, bearded, wide-eyed with disciplined wonder. For 30 years he has been rising at five in the morning to write for two hours before going off to work as a doctor. He has been a GP, a research scientist, and a professor of gerontology, one of Britain's leading experts, who has published more than 70 scientific papers and co-edited a 1,500-page standard textbook of gerontological medicine.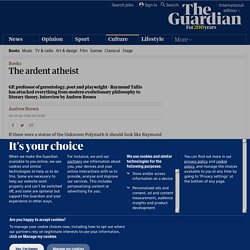 Consciousness and Cognition, Volume 19, Issue 2, Pages 505-686 (June 2010)
An amazing study has just been published online in Consciousness and Cognition about a patient with epilepsy who felt the left half of his body was being "invaded by a stranger" when he had a seizure. As a result, he felt he existed in one side of his body only. The research is from the same Swiss team who made headlines with their study that used virtual reality to make participants feel they were in someone else's body, and one where brain stimulation triggered the sensation of having an offset 'shadow body' in patients undergoing neurosurgery. The researchers suggest that having an integrated sense of our own bodies involves three types of perception: self-location – the area where we experience the self to be located; first-person perspective – the perceived centre of the conscious experience; and self-identification – the degree to which we identify sensations with our own bodies.
A stranger in half your body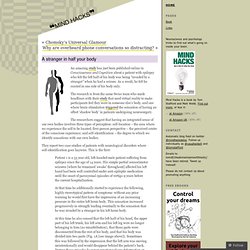 Illusory own body perceptions: Case reports and re... [Conscious Cogn. 2010] - PubMed result