For sewing and fabric stuff
Tutorial: Handmade Covered Buttons. I LUV covered buttons!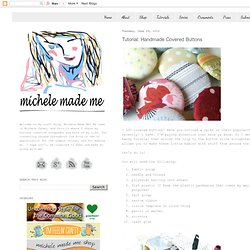 Have you noticed a spike in their popularity recently? I have. I'm paying attention over here ya know. So I devised this handy tutorial that avoids the trip to the button store altogether and allows you to make these little babies with stuff from around the house. Sewing 101: Drafting. We are continuing the Sewing 101 series.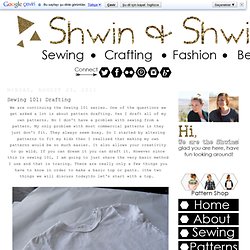 One of the questions we get asked a lot is about pattern drafting. Yes I draft all of my own patterns. My favorite finishing technique. I actually have several favorite finishing techniques, but there is one newish-to-me technique that I really love: the applied i-cord.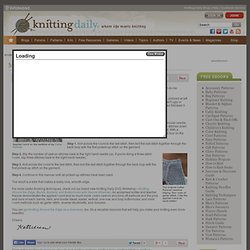 I used this knitting technique to finish off the neckline of my Caftan Pullover, pictured at left. The edging that the pattern called for was four rows of garter stitch, so it wasn't ugly or anything, but I wanted a smoother look. I did the garter stitch edging and then followed it with an applied i-cord. Want to try it? Stumpwork Beetle. I completed the stumpwork beetle yesterday afternoon and, whilst I think I need more practice, I'll share with you how it was done here.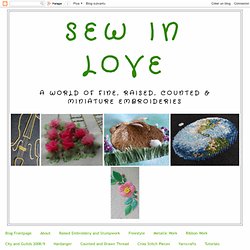 Hope you enjoy and find it at least a little interesting, and maybe even useful too! The kit came with just an oval outline on the fabric. The first thing to do then, was to pad the outline with felt. There was no pattern given for it, so I just guess-timated and then trimmed to size. Travel Volunteer Blog » Brought To You By The Letters R, L and The Colour Red.
In most countries, you find that people speaking English as a foreign language make the same mistakes.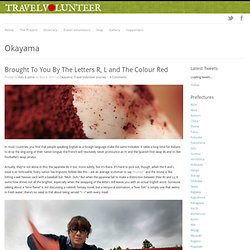 It takes a long time for Italians to drop the sing-song of their native tongue; the French will resolutely never pronounce an H; and the Spanish find swap Bs and Vs like footballers swap jerseys. Actually, they're not alone in this: the Japanese do it too, more subtly, but it's there. It's hard to pick out, though, when the R and L issue is so noticeable. Every nation has linguistic foibles like this – ask an average Scotsman to say "murder" and the sound is like hitting a wet hessian sack with a baseball bat: "Muh. How to make a center pull ball. This came about from a thread on knittinghelp.com.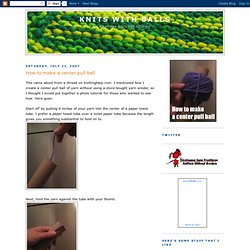 I mentioned how I create a center pull ball of yarn without using a store-bought yarn winder, so I thought I would put together a photo tutorial for those who wanted to see how. Here goes: Start off by putting 6 inches of your yarn into the center of a paper towel tube. I prefer a paper towel tube over a toilet paper tube because the length gives you something substantial to hold on to. How to sew with nice even seam allowances or topstitching. In my classes I find that a lot of people who are new to sewing lose sight of how wide their seam allowance ought to be.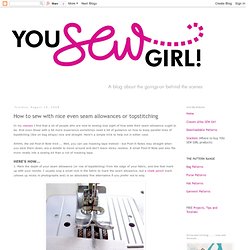 And even those with a bit more experience sometimes need a bit of guidance on how to keep parallel lines of topstitching (like on bag straps) nice and straight. Here's a simple trick to help out in either case.Ahhhh, the old Post-It Note trick.... Well, you can use masking tape instead - but Post-It Notes stay straight when you stick them down, are a doddle to move around and don't leave sticky residue. Techniques.
Adding belt loops is easy - I'll show you how! Adding belt loops to your sewing is a lot easier than you think.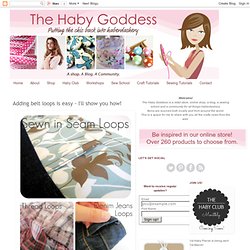 Not only are they functional, they can be an easy decorative feature too. Below I'll show you how to easily add belt loops into your seams during construction of the garment. Sewing Tips – Turning a Tube Right Side Out. Okay, so I realize that sometimes I gloss over one of the steps in my instructions, figuring everyone understands or has done a certain step before.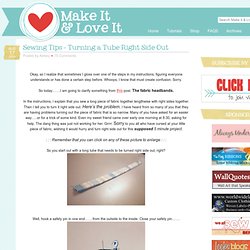 Whoops, I know that must create confusion. Sorry. So today…….I am going to clarify something from this post. The fabric headbands. Colette Sewing Handbook: Gathering Stitches. We're going to be highlighting a few tips and tricks from the Colette Sewing Handbook this month!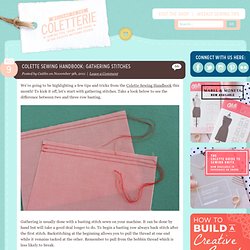 To kick it off, let's start with gathering stitches. Take a look below to see the difference between two and three row basting. Gathering is usually done with a basting stitch sewn on your machine. It can be done by hand but will take a good deal longer to do. To begin a basting row always back stitch after the first stitch. Monogrammed Woolens. Adding Simple Cargo-style Pockets to Shorts. I have mastered elastic waist shorts for my son. I can whip them out in 15 or 20 minutes after cutting the fabric. (I have reduced my fabric cutting time as well - but will address that another time...) Next on my to do list is to figure out how to add different types of pockets. I just finished a pair of simple elastic waist shorts using McCall's pattern 5419, view H. Sewing 101 with Michele, Loop Closures. It's time for another wonderful Sewing 101 post!
I'm delighted to welcome Michele from Michele Made Me. I twisted her arm into helping this month. Printable thread bobbins... How to Sharpen Your Rotary Cutter Blade. These are my faithful rotary cutters… the 28mm and 45mm. Sadly, they are as blunt as a hammer ! Everyone has this in their kitchen, right? How To Videos. Easy Tutorial - How to use metal rivets. Ever since Kyoko kindly taught me how to use rivets I have been hooked on them. When you and your sewing machine are already on crappy terms because your bag has a ba-jillion layers (and that's before you've even attached the handles) don't empty your purse into the swear jar; rivet your handles on instead.
You can also rivet fabric or leather straps onto metal trigger clips (much faster than sewing them on). You can also rivet fabric or leather straps onto metal trigger clips (much faster than sewing them on); or to decorate items (because they look like studs); basically, rivets are great for securing layers of material together. Rivets are inexpensive, easy to use, and I think you'll agree they really do 'lift' a bag to make it look more professional... This Carpet Bag looks pretty smart with all of it's shiny metal rings and rivets don'tcha think?
---
joyz Dec 12 2011

put the URL in the main window of your net and press enter, when the pearl tree opens, press Team Up, and then it will ask you where to place the tree, select your main tree and then press ok. It will say that your request has been sent. Once this is done your work is over, The team founder will decide whether to accept or reject your request.
It is very simple.

maho Dec 12 2011

I am new in this can you tell me how or where to put the URL?
---