Recycled sewing
Sweatshirt Refashion TUTORIAL finally!! Remember this Sweatshirt Refashion?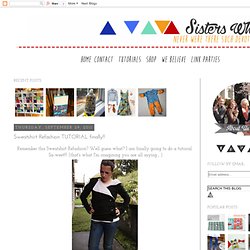 Well guess what? I am finally going to do a tutorial. The Boys' Faux-Layered Christmas Tee. It's high time for a project for the boys!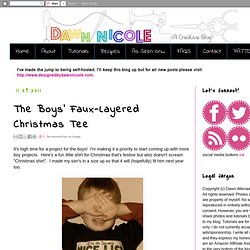 I'm making it a priority to start coming up with more boy projects. Here's a fun little shirt for Christmas that's festive but also doesn't scream "Christmas shirt". I made my son's in a size up so that it will (hopefully) fit him next year too. What You'll Need: The Chiquita Dress Tutorial. Isn't it funny how a characteristic in someone can drive you crazy one moment, but be the very thing you love about them the next?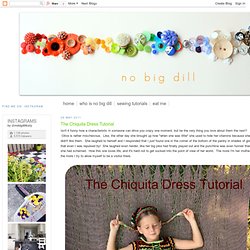 Olive is rather mischievous. Like, the other day she brought up how "when she was little" she used to hide her vitamins because she didn't like them. She laughed to herself and I responded that I just found one in the corner of the bottom of the pantry in shades of green that even I was repulsed by! She laughed even harder, like her big joke had finally played out and the punchline was even funnier than she had schemed.
How this one loves life, and it's hard not to get sucked into the point of view of her world. Tutorial lite: Getting another year of wear out of a top. Disclaimer: This really isn't a tutorial and can probably be filed under 'Well, duh' but I'm sharing it anyway because sometimes the 'Well, duh's pass us by.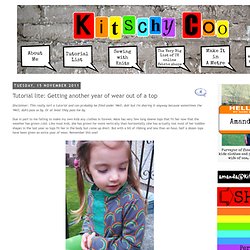 Or at least they pass me by. Due in part to me failing to make my own kids any clothes in forever, Maia has very few long sleeve tops that fit her now that the weather has grown cold. Like most kids, she has grown far more vertically than horizontally (she has actually lost most of her toddler shape) in the last year so tops fit her in the body but come up short.
MADE: TUTORIAL: Recycled Grocery Totes. Ready to go green?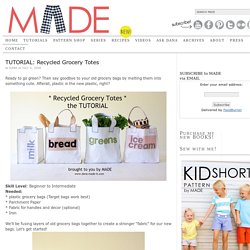 Then say goodbye to your old grocery bags by melting them into something cute. Afterall, plastic is the new plastic, right? Re-purposing. Etsy Russian Team. You can make a beautiful and stylish pendant with your own hands.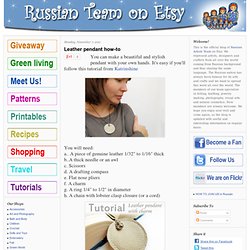 It's easy if you'll follow this tutorial from Katrinshine You will need: a.. Refashionista - Jen from iCandy Handmade. I hope you guys have been enjoying this Refashionista series as much as I have.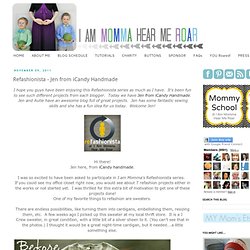 It's been fun to see such different projects from each blogger. Today we have Jen from iCandy Handmade. Jen and Autie have an awesome blog full of great projects. Jen has some fantastic sewing skills and she has a fun idea for us today. PR&P Tutorials, Week 4 - Upcycled Ruffles Dress. Week 4 of Project Run & Play was the Upcycle Challenge, we were tasked to create a look using only things that were thrifted.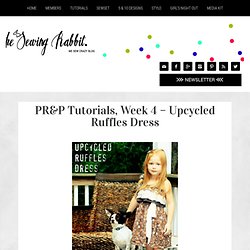 NO new fabric. I actually happen to love upcycling, I find that using old clothing to make new items can actually make the finished product look nicer. It can also make the sewing process easier and more fulfilling. Re-Purpose Little Girl Jeans. How many other mother's go crazy spending money over and over again on pants that end up looking like this?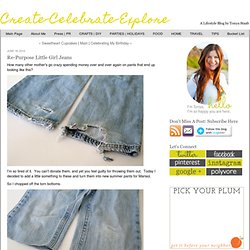 I'm so tired of it. You can't donate them, and yet you feel guilty for throwing them out. Today I decided to add a little something to these and turn them into new summer pants for Marisol. So I chopped off the torn bottoms. Re-purpose And Save Money During Back To School. If you can re-purpose old clothes for this school year, I highly recommend doing so, think of the money you will save.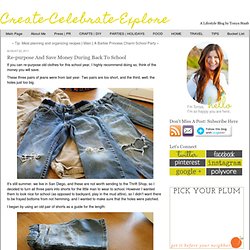 These three pairs of jeans were from last year. Two pairs are too short, and the third, well, the holes just too big. Puppet play: diana schoenbrun guest post! If you're anything like me, you have any number of stray socks and mittens lying around the house that have sadly lost their mates. In the new book Puppet Play: 20 Puppet Projects Made with Recycled Mittens, Towels, Socks, and More, author Diana Schoenbrun shows her readers how to make super cute and easy puppets from these and other recycled materials. Since many crafters are interested in the creative process behind a craft book like this, Diana is here at the honeybee blog today to tell us how she came up with the inspiration for her book. From Teeshirt to Halter Dress : Daily source of DIY craft projects and inspiration, patterns, how-tos | Craftzine.com.
Upcycled Design Lab Blog - Starting Over - More T-shirt Tales and a Tutorial (Basket Weave Upcycled T) So yesterday I accomplished what I was beginning to believe was the impossible!!! Drum-roll please..... I finally finished another t-shirt project!! Amazining?? Refashionista - Kelly from Sewing In No Man's Land. Kelly amazes me with her detailed, over-the-top designs. She is an incredible seamstress and to top it off she's a professional photographer. Even if you don't sew, her blog is too beautiful to pass up. Welcome Kelly! Refashionista - Delia from Delia Creates. Welcome to Day 3 of Refashionista. Today our guest is Delia of Delia Creates. I adore Delia. Her blog feels like entering a comfortable, warm home. It's full of beautiful ideas, gorgeous pictures, and she has two adorable boys!
(She's also got a little girl on the way.) Brenna's book page fabric. Make Iron-On Plastic Bag Clothing Decals. Tutorial - make a boy vest with mitten pockets.
---