SPE Paper contest
From PESWiki Geothermal power in hot water coming up from abandoned oil wells using "hot dry rock" heat mining via artificial geo-thermal reservoirs. [1] High costs associated with drilling have made many geothermal projects uneconomical. However, much of that work may already be done. There are over one million abandoned oil and gas wells around the world.
Geothermal Oil Wells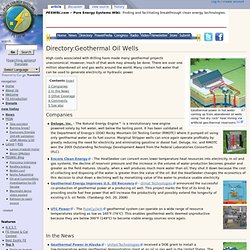 Kelp after an oil spill An oil spill is the release of a liquid petroleum hydrocarbon into the environment, especially marine areas, due to human activity, and is a form of pollution. The term is usually applied to marine oil spills, where oil is released into the ocean or coastal waters , but spills may also occur on land.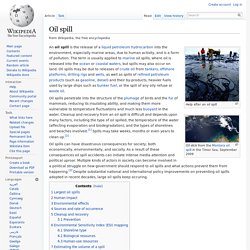 Oil spill
YouTube
(1) Oil spill & Gas emissions
Concession Map - Egypt Oil & Gas
Gemsa, Egypt - Area - Oilfield
Abandoned Wells in Egypt
التسرب البترولى البحر الأحمر ـ محيى العبادى أكدت اللجنة المشكلة من الأجهزة المعنية بمكافحة التلوث بالشركة العامة ووزارة البترول، بالتعاون مع شئون جهاز البيئة ومحميات البحر الأحمر، التوقف النهائى للتسرب البترولى، بعد عدة أسابيع من تدفق البترول بالجمشة وإحداث تلوث بيئى على مساحة ستة آلاف متر داخل مياه البحر. صرح المهندس وحيد سلامة، رئيس قطاع محميات البحر الأحمر، بأن التسرب البترولى توقف نهائياً بمنطقة خليج الجمشة، ولم يظهر أى تدفق جديد، وأن المؤشر يدل على أن الوضع استقر فى منطقة الآبار، وأن باقى التلوث فى مياه البحر قد تم محاصرتها بشفط السيارات والحواجز المطاطية وقش الأرز.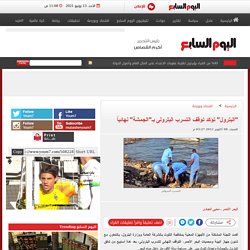 "البترول" تؤكد توقف التسرب البترولى بـ"الجمشة" نهائياً
Photo Source: AP Photo/California State Lands Commission. Nearshore wellhead excavated. In this undated photo released by the California State Lands Commission, a nearshore wellhead is excavated off California. In state waters, California has resealed scores of its abandoned wells since the 1980s, but in federal waters, the official policy is out-of-sight, out-of-mind.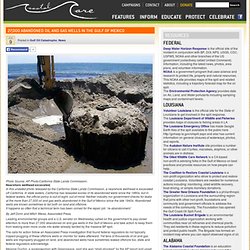 27,000 abandoned oil and gas wells in the Gulf of Mexico | Coastal Care
Of 50,000 wells drilled over the past six decades in the Gulf, 23,500 have been permanently abandoned. Another 3,500 are classified by federal regulators as "temporarily abandoned," but some have been left that way since the 1950s, without the full safeguards of permanent abandonment. by mahmoudsaeed Oct 28
Geothermal electricity is electricity generated from geothermal energy . Technologies in use include dry steam power plants, flash steam power plants and binary cycle power plants. Geothermal electricity generation is currently used in 24 countries, [ 1 ] while geothermal heating is in use in 70 countries. [ 2 ]
Geothermal electricity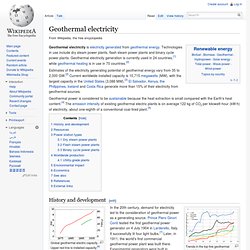 typical well doublet in Nevada can support 4.5 megawatt (MW) of electricity generation and costs about $10 million to drill, with a 20% failure rate by mahmoudsaeed Oct 28
producing electricity from a record low fluid temperature of 57°C (135°F) by mahmoudsaeed Oct 28
Geothermal power in the United Kingdom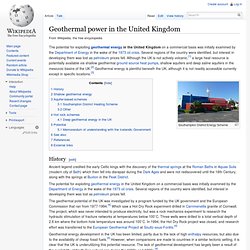 The potential for exploiting geothermal energy in the United Kingdom on a commercial basis was initially examined by the Department of Energy in the wake of the 1973 oil crisis . Several regions of the country were identified, but interest in developing them was lost as petroleum prices fell. Groundwater in Permo-Triassic sandstones in the UK has the potential to provide an exploitable geothermal resource at depths of between 1 and 3 km.
Binary cycle
Electricity generation in a vapor-dominated hydrothermal system. Key: 1 Wellheads 2 Ground surface 3 Generator 4 Turbine 5 Condenser 6 Heat exchanger 7 Pump Hot water Cold water Isobutane liquid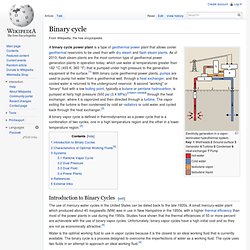 Geothermal energy is thermal energy generated and stored in the Earth. Thermal energy is the energy that determines the temperature of matter. The Geothermal energy of the Earth's crust originates from the original formation of the planet (20%) and from radioactive decay of minerals (80%). [ 1 ] [ 2 ] The geothermal gradient , which is the difference in temperature between the core of the planet and its surface, drives a continuous conduction of thermal energy in the form of heat from the core to the surface. The adjective geothermal originates from the Greek roots γη (ge) , meaning earth, and θερμος (thermos) , meaning hot.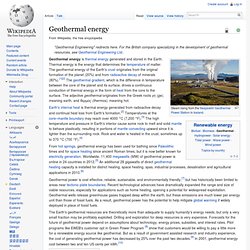 Geothermal energy
Outside of the seasonal variations, the geothermal gradient of temperatures through the crust is 25–30 °C (45–54 °F) per kilometer of depth in most of the world. The conductive heat flux averages 0.1 MW/km2. These values are much higher near tectonic plate boundaries where the crust is thinner. They may be further augmented by fluid circulation, either through magma conduits, hot springs, hydrothermal circulation or a combination of these. by mahmoudsaeed Oct 28
Geothermal power requires no fuel (except for pumps), and is therefore immune to fuel cost fluctuations, but capital costs are significant. Drilling accounts for over half the costs, and exploration of deep resources entails significant risks. A typical well doublet (extraction and injection wells) in Nevada can support 4.5 megawatts (MW) and costs about $10 million to drill, with a 20% failure rate.[27] by mahmoudsaeed Oct 28
In the geothermal industry, low temperature means temperatures of 300 °F (149 °C) or less. Low-temperature geothermal resources are typically used in direct-use applications by mahmoudsaeed Oct 28
The thermal efficiency of geothermal electric plants is low, around 10-23%, because geothermal fluids do not reach the high temperatures of steam from boilers by mahmoudsaeed Oct 28
In 2010, the United States led the world in geothermal electricity production with 3,086 MW of installed capacity from 77 power plants. by mahmoudsaeed Oct 28
limited to areas near tectonic plate boundaries by mahmoudsaeed Oct 28
Worldwide, about 10,715 megawatts (MW) of geothermal power is online in 24 countries. An additional 28 gigawatts of direct geothermal heating capacity is installed for district heating, space heating, spas, industrial processes, desalination and agricultural applications.[2] by mahmoudsaeed Oct 28
Enhanced geothermal system 1 Reservoir 2 Pump house 3 Heat exchanger 4 Turbine hall 5 Production well 6 Injection well 7 Hot water to district heating 8 Porous sediments 9 Observation well 10 Crystalline bedrock Enhanced Geothermal System (EGS) is a new type of geothermal power technology that does not require natural convective hydrothermal resources. Until recently, geothermal power systems have exploited only resources where naturally occurring heat, water, and rock permeability are sufficient to allow energy extraction. [ 1 ] However, by far the most geothermal energy within reach of conventional techniques is in dry and impermeable rock. [ 2 ] EGS technologies enhance and/or create geothermal resources in this hot dry rock (HDR) through 'hydraulic stimulation'. When natural cracks and pores do not allow economic flow rates, the permeability can be enhanced by pumping high-pressure cold water down an injection well into the rock.
Enhanced geothermal system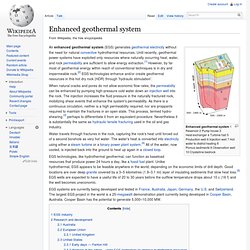 It should produce up to 4 megawatts of electricity for use by Eden with a surplus, enough for about 5,000 houses, going in to the National Grid. by mahmoudsaeed Oct 28
a well to draw water from the Wessex Basin aquifer at a depth of 1,800 metres and a temperature of 76 °C.[2] by mahmoudsaeed Oct 28
HDR wells are expected to have a useful life of 20 to 30 years before the outflow temperature drops about 10 degrees Celsius and the well becomes uneconomic. If left for 50 to 300 years the temperature will recover by mahmoudsaeed Oct 28