Facebook Privacy
Get flash to fully experience Pearltrees
Your name, profile picture, gender, current city, networks, Friends List, and all the pages you subscribe to are now publicly available information on Facebook. This means everyone on the web can see it; it is searchable. This represents just the latest instance of Facebook violating the contract it holds with its users. This is no small matter, either.
We reported yesterday that Facebook is aiming to get people to be more public on the site and that anyone who hasn't changed their privacy settings will now see it "recommended" that their status updates, photos etc. be exposed to the whole web. I had a unique opportunity to speak to Barry Schnitt, Director of Corporate Communications and Public Policy at Facebook and quite a frank guy, at length this afternoon about Facebook's privacy policy changes. Schnitt said "your understanding is basically correct," but disagreed with the negative light I saw the change in.
Just over two years ago, Sophos UK conducted a Facebook ID Probe to see how willingly social networkers give out their personal data. 43% of those in the probe accepted an invitation to be friends with Freddi Staur – allegedly a 20-something from London, but in reality a green plastic frog . That was in 2007, and in England.
Five months after it first announced coming privacy changes this past summer, Facebook is finally rolling out a new set of revamped privacy settings for its 350 million users. The social networking site has rightly been criticized for its confusing privacy settings, most notably in a must-read report by the Canadian Privacy Commissioner issued in July and most recently by a Norwegian consumer protection agency . We're glad to see Facebook is attempting to respond to those privacy criticisms with these changes, which are going live this evening.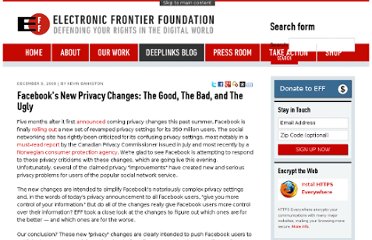 Sent this to my email newsletter earlier today… you can join the list at www.bit.ly/jasonslist
I came close to killing my Facebook account this week.
Facebook's privacy pullback isn't just outrageous; it's a landmark turning point for the social network.
If you are trying to contact me on Facebook, please don't. My account has been "disabled" for breaking Facebook's Terms of Use. I was running a script that got them to keep me from accessing my account.
Like many other people, I have a Facebook account.