Pop-up
Create an AJAX/jQuery/PHP Contact Form. This tutorial uses XHTML, CSS, jQuery and a little PHP to make a pop-up/modal contact form that validates whatever is entered into the form and then uses AJAX to send the form without refreshing the page.
Sounds complicated…actually it's very simple!! The code of this tutorial has been updated. Fancybox - Fancy jQuery lightbox alternative. Lightbox 2. Have a feature request?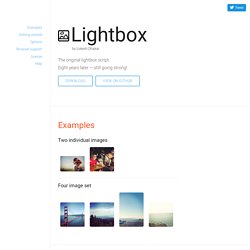 If you want a feature added, create an issue on Github. Someone else or I might be able to help out. jQuery lightbox for images, videos, YouTube, iframes, ajax | Stéphane Caron. To open inline content, simply: Create a link (<a href="#">).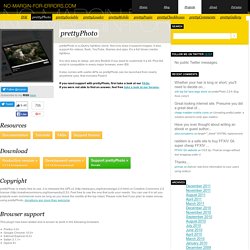 Add the rel attribute "prettyPhoto" to it (rel="prettyPhoto"). Change the href of your link so it is the ID of the inline content you want to open with the ID CSS selector (#). This is inline content opened in prettyPhoto. Tutoriel Vidéo jQuery : Réaliser une Pop-in avec jQuery. Créer des pop-up intelligentes. Comment ouvrir une nouvelle fenêtre sans se priver des internautes qui ne disposent pas de JavaScript ou l'ont désactivé ?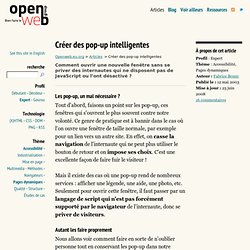 Les pop-up, un mal nécessaire ? Tout d'abord, faisons un point sur les pop-up, ces fenêtres qui s'ouvrent le plus souvent contre notre volonté. Ce genre de pratique est à bannir dans le cas où l'on ouvre une fenêtre de taille normale, par exemple pour un lien vers un autre site. En effet, on casse la navigation de l'internaute qui ne peut plus utiliser le bouton de retour et on impose ses choix. C'est une excellente façon de faire fuir le visiteur !
---