Particle Physics
Baryogenesis
In physical cosmology , baryogenesis is the generic term for hypothetical physical processes that produced an asymmetry between baryons and antibaryons in the very early universe , resulting in the substantial amounts of residual matter that make up the universe today. Baryogenesis theories (the most important being electroweak baryogenesis and GUT baryogenesis) employ sub-disciplines of physics such as quantum field theory , and statistical physics , to describe such possible mechanisms.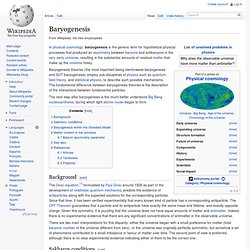 In particle physics , antimatter is material composed of antiparticles , which have the same mass as particles of ordinary matter but have opposite charge and quantum spin . Antiparticles bind with each other to form antimatter in the same way that normal particles bind to form normal matter. For example, a positron (the antiparticle of the electron , with symbol e + ) and an antiproton (symbol p ) can form an antihydrogen atom.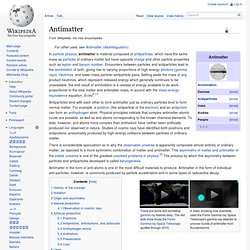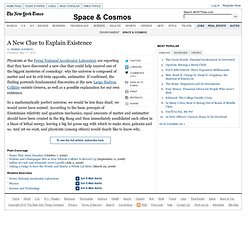 From Fermilab, a New Clue to Explain Human Existence? - NYTimes.
In a mathematically perfect universe, we would be less than dead; we would never have existed.