Crochet & Crafts
Nå har bloggen min ligget helt "brakk" i 6 mnd, helt siden mars, så nå er det jammen på tide å komme igang med blogging igjen…. :O) Da jeg startet "olavas verden" i 2006 var det en ren scrappeblogg, siden det var det som opptok meg den gangen. Etterhvert har scrappingen vært litt på og av, mest av, har vel hatt det man kaller scrappetørke, nesten så jeg trodde at jeg ikke klarte å scrappe mer.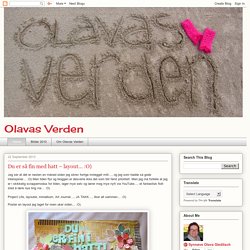 Olavas Verden
Crochet Dreamz
This crochet pattern can be made in multiple sizes to fit all the girls and ladies in your famlily. The pattern uses just basic crochet stitches to create this beautiful texture. Wear it with your long coat and boots to complete your winter look.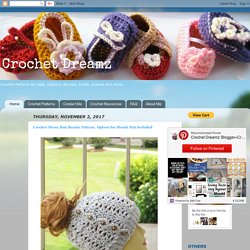 It's a new year, time for a new knit! I am so excited to dive into this fabulous knit kit from Wool and the Gang! As we all know, my sweater collection will never truly be complete, so I decided to add another knit to the mix and get started on the Supremes Sweater Kit. The kit includes the yarn, needles, and tapestry needle needed to make the sweater. It also includes the pattern for three different, but very similar, sweaters. I decided to keep it simple and cast on the Florence sweater.
one sheepish girl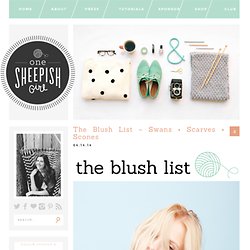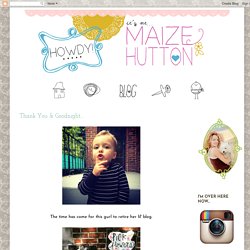 Maize Hutton
This gurl found an excellent pair of men's wool socks at the thrift and thought they'd look super duper cutie-rif-ic if they had a croshayed edge to 'em. Now, I'm not expectin' a burly man to wear 'em-- nosiree. These are meant for moi to wear 'round the cottage durin' these chilly evenings. I used a 2mm hook and some of my new fave vintage cotton yarn called Coquette by Susan Crawford that the nice postal lady delivered to my stoop the other day. It's such a wonderful yarn to croshay with. I simply inserted my hook along the stitches at the top o' the sock and made some single croshays for a coupla rows.
Stouthearted - Home
Colorfull Creations
I made a nice summer hat for my friend's daughter and I had a little bit yarn left, so I decided to crochet her a little purse to go with a hat. That was really bright and colorful yarn and purse looks really cute, I kind of want it too :) It is simple to make, follow the pattern and crochet a rectangle, then fold it and sew sides, make a string long enough, sew the flower or button on and make a loop to hold top part from opening. Done!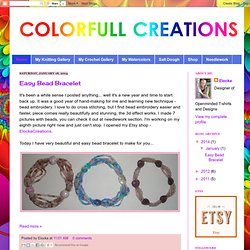 My oh my... that was a loong gap between posts wasn't it? My apologies. All I can say is that I jinxed myself in my last post.
Tea at Weasel's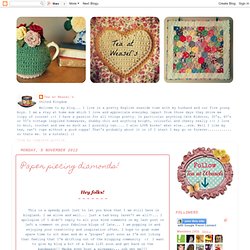 ♥ Click this link if you want to follow my blog with Bloglovin ♥ Click here for more free patterns - Klik hier voor meer gratis patronen Kijk eens naar dit schattige hondje, is 'ie niet lief? Ik vond haar in de Etsy-winkel Ahmaymet en weet je, Ahmaymet wil graag een patroontje weggeven aan drie van mijn volgers. Is dat niet leuk? Laat dus hieronder een reactie achter en wie weet lees jij a.s. dinsdag wel dat jij gewonnen hebt.
ANNEMARIE'S CROCHET BLOG ♥ ANNEMARIE'S HAAKBLOG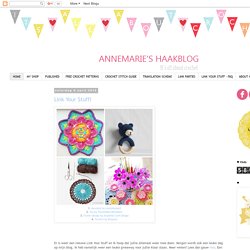 Tejiendo... dos agujas, crochet, telares, horquilla, etc.
El tejido nos ha acompañado desde siempre, lo aprendimos siendo pequeñas... Ha estado con nosotros en muchos momentos felices, y nos ayudó inmensamente en los momentos tristes, ¡Es nuestra pasión y lo compartimos con ustedes! En Tejiendo Perú compartimos tutoriales para tejer en dos agujas, crochet, tunecino, telares, etc. Durante el mes de enero haremos algunos pequeños ajustes en nuestra página... ustedes podrán visitarla normalmente.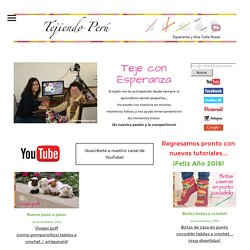 Tejeterapia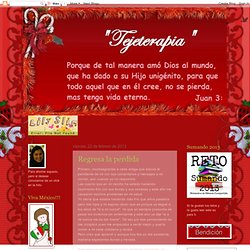 Inspirándome en algunos blog, se me ocurrió una loca idea: Invité a 10 amigas a tejer 5 grannys cada una con el tema "El día internacional de la mujer", con 3 yo armaré una manta para sortear y dos serían para mí. Además me envian una bolsita del estambre con el que tejieron sus grannys, este estambre me serviran para emparejar los grannys, unir la manta y tejer un cojín que será el segundo premió. Claro que el envío de la manta también va por mi cuenta.
Bunny Mummy
Hello Lovelies, There has been a bit less crochet here than there was in 2012, but looking back at it all gathered together for this post, there is more than I had thought. I hope you enjoy this celebration of colourful crochet. Back in December last year I made an owl for my sister in law. It's become a bit of a tradition to crochet a decoration for her Christmas tree and I was particularly pleased with how this one turned out.........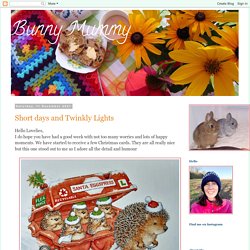 The other day I finally finished this 'block' from 1-2-3 Quilt*. I'm making one block from this book every month this year. In the book it is used for the cover of a pouch, but I won't be doing that, I'll just use the block in a quilt. This one is pretty straight forward, all squares. But I decided to make it anyway, and not jump on one of the more complicated blocks, because these squares are small. 1½" when cut, 1" when sewn together. I knew this would be a test of my patience and boy was it ever.
Carina's Craftblog
Well, I finally got it done. LOL. Actually, I had the doll done for quite a while, but while moving things around and 'decluttering' my work room, I put my notebook in a *safe* place while everything was topsy-turvy. Of course, I promptly forgot where I put it! I finally found it and now I've got the pattern ready. This pattern is a bit more complicated than some.
WolfDreamer
GourmetAmigurumi |
16 comments on my last entry! I am so heartened by the responds many of you left. I hope the rest of my visitors take the time to read them. I've spent the last week or so thinking about a way to respond. And I've decided to tell you my motivations for the last blog.
willewopsie
Workshop Haken voor beginners Haken is hip! Had je er al eens aan gedacht om te gaan leren haken? Of je techniek weer opfrissen… In samenwerking met Ada / GOEDt, in een mooi decor van brocante meubels, houden we op woensdag morgen een haak workshop .
Břichopas about toys
Czech author Lucie Kameníková Baruru sews mottled funny character as a child draws with thick crayon. Dnes si tu šedou zimu obarvíme hezky do strakata... Pod značkou Baruru tvoří živelně a s nadšením Lucie Kameníková své pestrobarevné "serepetky", jak s láskou označuje své roztmile ulítlé šité drobnosti. Nezaměnitelný rukopis snadno poznáte podle veselého výrazu ve tváři a hlavně přiznaným barevným entlem kolem obrysových tvarů. Jako když dítě kreslí tlustou pastelkou.
Pickled Tink
Skymagenta's Crochet
Favorite Little Princess
Repeat Crafter Me
BienSimple.com | Soluciones, tips e ideas para simplificar tu vida en pocos pasos.