Wordpress Plugins
Quick Page/Post Redirect Plugin. Version 5.0.6.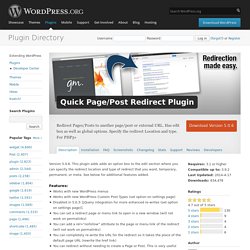 This plugin adds adds an option box to the edit section where you can specify the redirect location and type of redirect that you want, temporary, permanent, or meta. See below for additional features added.
RankWP - tracking and ranking WordPress.org plugins. PayPal File Download WordPress Plugin. PayPal File Download for WordPress is the easiest way to sell digital content.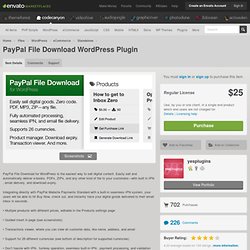 Easily sell and automatically deliver e-books, PDFs, ZIPs, and any other kind of file to your customers—with built in IPN , email delivery, and download expiry. Integrating directly with PayPal Website Payments Standard with a built-in seamless IPN system, your users will be able to hit Buy Now, check out, and instantly have your digital goods delivered to their email inbox in seconds. • Multiple products with different prices, editable in the Products settings page • Guided insert in page (see screenshots)
Menu. WordPress Plugins by Yoast. Navigation. Graphics. File Management. Widgets.
---