Code
The HTML5 test - How well does your browser support HTML5?
SwitchToHTML5 - The HTML5 Framework Generator
PrettyPrinter.de, an online pretty printer for PHP, Java, C++, C, Perl, JavaScript, CSS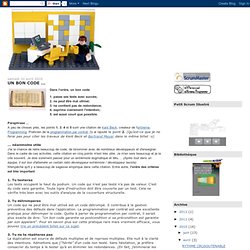 Dans l'ordre, un bon code 1. passe ses tests avec succès;2. ne peut être mal utilisé;3. ne contient pas de redondance;4. exprime clairement l'intention; 5. est aussi court que possible. Paraphrase ...A peu de choses près, les points 1, 3, 4 et 5 sont une citation de Kent Beck, créateur de l'eXtreme-Programming. Praticien de la programmation par contrat, j'y ai rajouté le point 2. (Qu'est-ce que je ne ferai pas pour citer les travaux de Kent Beck et Bertrand Meyer dans le même billet :o) ... néanmoins utileJ'ai la chance de relire beaucoup de code, de binommer avec de nombreux développeurs et d'enseigner.
UN BON CODE ...
Special ALT Characters§The chart below is a graphic image of how all the characters should look. View the HTML version. Note: Not all programs, applications and browsers will recognize all of the Special ALT Characters. Return to Main Page of Ted's HTML Tutorial §To obtain an ALT Character: