Cache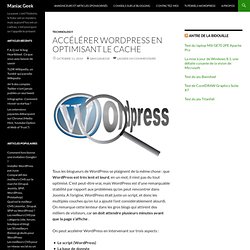 Accélérer Wordpress en optimisant le cache
Tous les blogueurs de WordPress se plaignent de la même chose : que WordPress est très lent et lourd, en un mot, il n'est pas du tout optimisé. C'est peut-être vrai, mais WordPress est d'une remarquable stabilité par rapport aux problèmes qu'on peut rencontrer dans Joomla. A l'origine, WordPress était juste un script, et donc les multiples couches qu'on lui a ajouté l'ont considérablement alourdi.
What is Memcached? Free & open source, high-performance, distributed memory object caching system, generic in nature, but intended for use in speeding up dynamic web applications by alleviating database load. Memcached is an in-memory key-value store for small chunks of arbitrary data (strings, objects) from results of database calls, API calls, or page rendering. Memcached is simple yet powerful. Its simple design promotes quick deployment, ease of development, and solves many problems facing large data caches. Its API is available for most popular languages.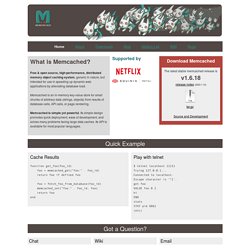 memcached - a distributed memory object caching system
Caching Tutorial for Web Authors and Webmasters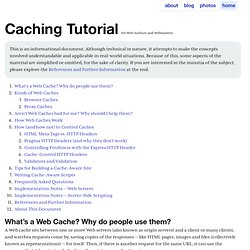 for Web Authors and Webmasters This is an informational document. Although technical in nature, it attempts to make the concepts involved understandable and applicable in real-world situations. Because of this, some aspects of the material are simplified or omitted, for the sake of clarity. If you are interested in the minutia of the subject, please explore the References and Further Information at the end. What's a Web Cache?
This service makes extensive use of Cascading Style Sheets. Please enable them or use a CSS-aware browser to get the most benefit from it. The color of the list dot indicates the cacheability of the resource. It probably wasn't your fault, but the following may give you an idea of what was happening when things went bad. Please mail this page to errors@mnot.net
Cacheability: http://legeardweb.com