Car
the best way to change oil
Opinion: Car prices to head south soon
How to check transmission and discover possible transmission problem when buying a used car.
How to check an automatic transmission when buying a used car • How to check manual transmission • How to check automatic transmission fluid Please note, the information below is designed to give you an initial idea about what to look for when buying a used car and may help you to eliminate some used cars with potential problems, but it can not substitute for detailed mechanical inspection performed by a professional. As a final step before purchase, take the car to a mechanic of your choice for thorough mechanical inspection. Automatic transmission An automatic transmission becomes more reliable these days, but still it's a most-easy-to-break and very-expensive-to-fix part of the vehicle. If heavily abused, the automatic transmission can be easily destroyed within just half an hour.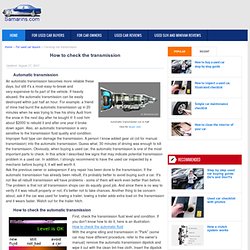 Gearbox Problems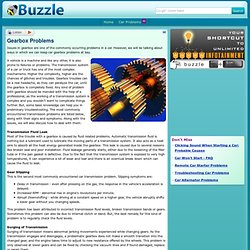 Issues in gearbox are one of the commonly occurring problems in a car. However, we will be talking about ways in which we can keep car gearbox problems at bay. A vehicle is a machine and like any other, it is also prone to failures or problems. The transmission system of a car or truck has one of the most complex mechanisms. Higher the complexity, higher are the chances of glitches and troubles. Gearbox troubles can be a real headache, as they can paralyze the car, until the gearbox is completely fixed.
August 2009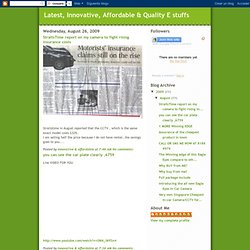 --Sensor: CMOS motion sensor --90degree view angle --Resolution: 320X240 --Focus: 100 cm to infinite --Rate of recording: 13 frame/second, AVI- - White balance: automatic
The car Transmission Bible - how transmissions and gearbox work including manuals, automatics, clutch, CVT, crash gearboxes, differentials, limited-slip differentials, 2wd, 4wd, awd and much more. The Transmission Bible Translated versions of this site: Svenska Русский 中國 Latest blog entry That question depends on which side of the Atlantic you're on. To the Europeans, it's a gearbox.
Car Bibles : The Car Transmission Bible page 1 of 2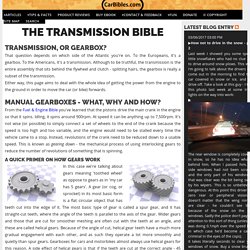 Automatic Transmissions A Short Course on How They Work
A one-way clutch (also known as a "sprag" clutch) is a device that will allow a component such as ring gear to turn freely in one direction but not in the other. This effect is just like that of a bicycle, where the pedals will turn the wheel when pedaling forward, but will spin free when pedaling backward. A common place where a one-way clutch is used is in first gear when the shifter is in the drive position. When you begin to accelerate from a stop, the transmission starts out in first gear.