Presse online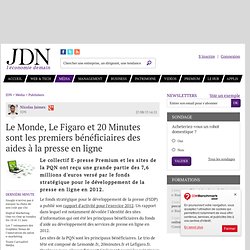 Le collectif E-presse Premium et les sites de la PQN ont reçu une grande partie des 7,6 millions d'euros versé par le fonds stratégique pour le développement de la presse en ligne en 2012. Le fonds stratégique pour le développement de la presse (FSDP) a publié son rapport d'activité pour l'exercice 2012. Un rapport dans lequel est notamment dévoilée l'identité des sites d'information qui ont été les principaux bénéficiaires du fonds d'aide au développement des services de presse en ligne en 2012. Les sites de la PQN sont les principaux bénéficiaires.
Le Monde, Le Figaro et 20 Minutes sont les premiers bénéficiaires des aides à la presse en ligne - JDN Média
Réalité augmentée: Les petits Japonais ont leur app pour lire le journal - High-Tech
Réalité augmentée Un journal de Tokya a développé une app qui anime les textes grâce à la caméra d'un smarphone. Signaler une erreur Vous avez vu une erreur? Merci de nous en informer. Veuillez SVP entrez une adresse e-mail valide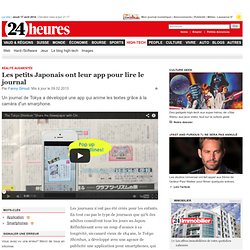 Il est l'or de faire les comptes – ©27117418@N07 via flickr.com Débats passionnants le 19 octobre, lors de la 3e journée de la presse en ligne, organisée par le Spiil, le syndicat de la presse indépendante d'information en ligne. Question centrale du jour : comment revoir les aides à la presse, pour les rendre plus justes et efficaces. L'aide à la presse en France ne date pas d'hier. Une bonne part du système remonte à la Libération et ses fameuses ordonnances de 1944. Il s'agissait alors d'une refondation profonde de la presse destinée à assurer son indépendance à l'égard des pouvoirs d'argent et du politique.
- Aides à la presse : il est grand temps de remettre tout à plat…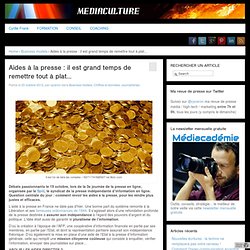 5, 10, 30, voire 50 millions de visites par mois. Si l'info en ligne a gagné le pari de la popularité et de la consommation de masse, il lui reste le plus dur, et peut-être le plus urgent, à relever : la monétisation. Comment faire payer cette info hyper-consommée, appréciée, recherchée, partagée ?
Sites d'infos : et maintenant, qui va payer ?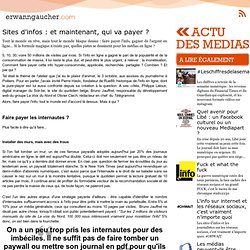 Has David Leigh cracked it? We have been puzzling for years about how to subsidise journalism once it makes the final transition from print to net (see here and here and here). One obvious model is the funding of the BBC through its licence fee. Objectors to such an idea - including current commercial proprietors - have argued, unsurprisingly, on press freedom lines. Any connection to the state is to be avoided.
A broadband levy to fund journalism? Now that's a very clever idea | Media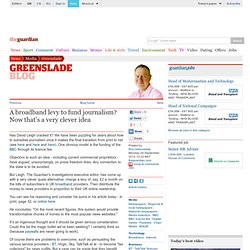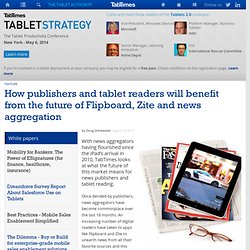 Once derided by publishers, news aggregators have become commonplace over the last 18 months. An increasing number of digital readers have taken to apps like Flipboard and Zite to unearth news from all their favorite sources and this has led Flipboard to hit eight million users, and Zite to be acquired by CNN. News aggregation has not always been a blossoming business though. While Flipboard is now recognized as a key player in the media industry (by big names like The Economist no less), other news aggregators have been less fortunate.
How publishers and tablet readers will benefit from the future of Flipboard, Zite and news aggregation | TabTimes
Comment, en 2012, s'informe-t-on? C'est sur cette question que s'est penché le Reuters Institute Study of Journalism, en analysant la façon dont les Américains, les Anglais, les Allemands, les Danois et les Français sont en contact avec l'actualité. Cette étude (en PDF), publiée le 9 juillet 2012, montre que Facebook joue désormais un rôle clé dans le partage d'informations, supplantant les emails et Twitter, que les plus jeunes (16-24 ans) s'informent sur les réseaux sociaux plutôt qu'en cherchant dans des moteurs de recherche et que les smartphones sont de plus en plus utilisés pour accéder à l'actualité – 28% des Anglais et des Américains et 32% des Danois disent utiliser leur mobile chaque semaine pour ce faire. La France s'y révèle très active: elle est en effet prolixe en matière de participation aux sondages en ligne et de production de commentaires, pas tant dans l'impasse que cela.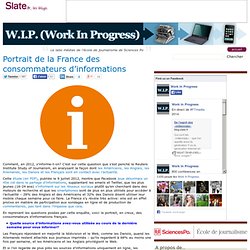 W.I.P. (Work In Progress) » Portrait de la France des consommateurs d'informations
By Rosalba O'Brien LONDON Tue Jun 12, 2012 10:43am EDT LONDON (Reuters) - Website operators may soon be forced under planned new British laws to reveal the identity of those who post defamatory comments on their forums, a move that aims to protect victims by speeding up what is often a lengthy and expensive legal process. Justice Secretary Kenneth Clarke said the proposed approach would give greater protection to operators who complied with the procedure, ahead of Tuesday's second reading in Parliament of the Defamation Bill.
Internet trolls face tough new UK rules
Les états généraux de la presse écrite, en 2009, avaient été une gigantesque foire aux subventions (200 millions d'euros supplémentaires par an). Beaucoup y étaient allés quémander les aides publiques directes. Dans la plus grande discrétion bien sûr : tout cela relève du secret des affaires.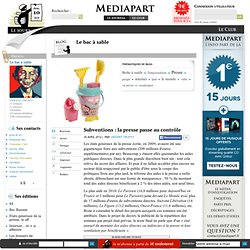 Subventions : la presse passe au contrôle
Détail d'un texte
Promotora de Informaciones S.A. : Microsoft and PRISA sign an agreement for Online Advertising and Content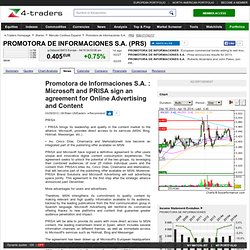 • PRISA brings its leadership and quality in the content market to the alliance; Microsoft, provides direct access to its services (MSN, Bing, Hotmail, Messenger, etc.) • As, Cinco Días, Cinemanía and Meristationwill now become an integrated part of the publishing offer available on MSN PRISA and Microsoft have signed a definitive agreement to offer users unique and innovative digital content consumption experiences. The agreement seeks to unlock the potential of the two groups, by leveraging their combined audiences of over 25 million individual users and the content from PRISA's sites As, Cinco Días, Cinemanía and Meristation, that will become part of the publishing offer available on MSN. Moreover, PRISA Brand Solutions and Microsoft Advertising will sell advertising space jointly. This agreement is the first step after the strategic alliance announced past December.
Bulletins from the future
EVEN IF YOU are not a news junkie, you will have noticed that your daily news has undergone a transformation. Television newscasts now include amateur videos, taken from video-sharing websites such as YouTube, covering events like the Arab spring or the Japanese tsunami. Such videos, with their shaky cameras and people's unguarded reactions, have much greater immediacy than professional footage. Messages posted on Twitter, the microblogging service, have been woven into coverage of these events and many others.
Les investisseurs historiques, Sigma Gestion et quelques Business Angels, viennent de financer un nouveau tour de la plateforme de diffusion en ligne de magazines et journaux, LeKiosque.fr à hauteur de 1,2 millions d'euros, portant donc à près de 2,5 millions d'euros leurs investissements. Créé en 2006 par Michael et Nathaniel Philippe, la société poursuit sa croissance et s'apprète à annoncer de nouveaux développements afin d'étoffer l'accessibilité de son offre. Nous vous en parlions il y a quelques semaines, le groupe Lagardère (propriétaire de Relay) ainsi que Prisma ont également décidé de diffuser leurs publications, portant à plus de 500 le nombre de journaux et magazines disponibles. Depuis 1 semaine, LeKiosque développe son offre publicitaire et accueille Renault comme premier annonceur, dont la campagne est visible au lancement de l'application iPad, et présente sur les différents espaces publicitaire du service.
Levée de fonds de 1,2 millions d'euros pour LeKiosque.fr
Il existe de très nombreux classements des sites. Le plus souvent, ils sont basés sur le nombre de visiteurs uniques ou de visites. Mais au bout du compte cela se traduit toujours par un ranking, et c'est ce que propose le site Alexa. Voici, construit avec cet outil, un classement des 60 premiers sites d'information français. Les classements de sites se multiplient. L'américain ComScore a récemment publié un classement des principaux sites d'information mondiaux [voir sur le site du Guardian les dix premiers], qui montrait que le New York Times avec presque 62 millions de « visites » avait creusé l'écart sur ses principaux concurrents, en particulier le HuffingtonPost, censé pourtant ui tailler des croupières.
Le ranking des sites français d'information
classement Alexa sites français 19 avril 2011
How to Save the News - Magazine
Plummeting newspaper circulation, disappearing classified ads, "unbundling" of content—the list of what's killing journalism is long. But high on that list, many would say, is Google, the biggest unbundler of them all. Now, having helped break the news business, the company wants to fix it—for commercial as well as civic reasons: if news organizations stop producing great journalism, says one Google executive, the search engine will no longer have interesting content to link to. So some of the smartest minds at the company are thinking about this, and working with publishers, and peering ahead to see what the future of journalism looks like. Guess what? It's bright.
Krishna Bharat founded Google News in 2002, partly in response to the US-centric news coverage served up by the American media after 9/11. Since then, the project has had its ups and downs with news publishers — a rocky relationship that seems, of late, to have moved away from the frenemy zone and settled into something more genuinely collegial. At a talk he delivered at Columbia's J-school last night, Bharat discussed that relationship — "the elephant in the room," he called it (particularly so in a room that happens to be full of journalists) — but focused more on the opportunities that technology affords the news producers who are open to it. During a Q-and-A after the talk, Bharat did reveal a bit — a bit!
Google News founder Krishna Bharat: For news consumers, "the whole experience is what counts" » Nieman Journalism Lab » Pushing to the Future of Journalism
Les Kiosques num?riques sont-ils le probl?me o? la solution de la presse en ligne? ? Article ? OWNI, Digital Journalism
Publications Newspaper Web Sites Reach 62% of Online Population 01/26
Six-month US study finds more than 400,000 articles illegally republished
Journaux sur iPad : la Belgique soupçonne Apple d'abus de position dominante
Apple tells newspapers: no free iPad edition for print subscribers
Newspapers overtake broadcasters in video streaming
How Ongo works
Stricter copyright laws needed for newspapers' sakes
How The Biggest U.S. Newspaper Paywalls Compare
Tom Matlack: The Rebirth of Newspapers
INTERNET: Facebook et les médias: toujours plus unis - News High-Tech: Web