Mesures des médias
Gopress - Article 170/276: Nouvelle mesure d'audience sur le Net : la révolution attendra. L'actualité des médias. Selon les résultats 2011-2012 de l'étude AudiPresse One sur l'audience des marques de presse, le nombre de lecteurs "print" ne fléchit pas et l'on compte de plus en plus de lectures numériques.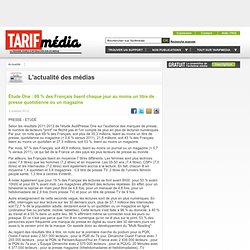 Par jour, on note que 69 % des Français, soit plus de 35,3 millions, lisent au moins un titre de presse, quotidienne ou magazine (+ 0,6 % versus 2011). 21,8 millions, soit 43 % des Français, lisent au moins un quotidien et 27,3 millions, soit 53 %, lisent au moins un magazine. Par mois, 97 % des Français, soit 49,8 millions, lisent au moins un journal ou un magazine (+ 0,7 % versus 2011), ce qui fait de la France un des pays les plus lecteurs de presse au monde. Médias & Publicité : La diffusion de la presse se redresse. Les ventes des titres grand public ont mieux résisté en 2010-2011, selon l'OJD.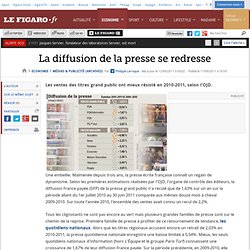 Une embellie. Malmenée depuis trois ans, la presse écrite française connaît un regain de dynamisme. Selon les premières estimations réalisées par l'OJD, l'organe de contrôle des éditeurs, la diffusion France payée (DFP) de la presse grand public n'a reculé que de 1,63% sur un an sur la période allant du 1er juillet 2010 au 30 juin 2011 comparée aux mêmes douze mois à cheval 2009-2010. How important are news apps in looking for online profitability? Profitability and finding a sustainable economic way for newspaper in the digital world is probably if the not the main, at least one of the main challenges facing the news industry today.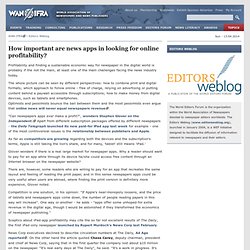 The whole picture can be seen by different perspectives: how to combine print and digital formats; which approach to follow online - free of charge, relying on advertising or putting content behind a paywall accessible through subscriptions; how to make money from digital devices, such as tablets and smartphones. Optimists and pessimists bounce the ball between them and the most pessimists even argue that online news will never equal newspapers revenue. "Can newspapers apps ever make a profit?
" Jobs a mad man - m.NYPOST.com. Apple CEO Steve Jobs is drawing on a treasure trove of data about consumers' media habits to court Madison Avenue and build up his own mobile-ad business.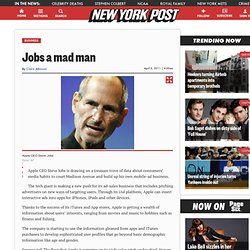 The tech giant is making a new push for its ad-sales business that includes pitching advertisers on new ways of targeting users. Through its iAd platform, Apple can insert interactive ads into apps for iPhones, iPads and other devices. Thanks to the success of its iTunes and App stores, Apple is getting a wealth of information about users' interests, ranging from movies and music to hobbies such as fitness and fishing. The company is starting to use the information gleaned from apps and iTunes purchases to develop sophisticated user profiles that go beyond basic demographic information like age and gender. Sources tell The Post that Apple is ramping up its iAds sales pitch under chief, Steven Rosenblatt, who is also trying other tactics to lure marketers.
3 Français sur 4 en contact avec une marque de quotidien. INFOGRAPHIE - L'audience de la presse quotidienne s'est stabilisée à 23,4 millions de lecteurs, selon l'enquête Epiq-Audipresse.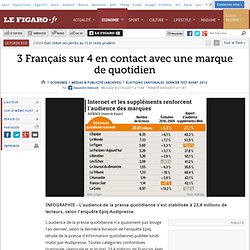 L'audience de la presse quotidienne n'a quasiment pas bougé l'an dernier, selon la dernière livraison de l'enquête Epiq (étude de la presse d'information quotidienne) publiée lundi matin par Audipresse. Toutes catégories confondues (nationale, régionale et gratuite), 23,4 millions de Français âgés de 15 ans et plus lisent chaque jour au moins un titre de la presse quotidienne, soit une évolution de -0,1% par rapport à la dernière vague d'enquête à fin juin 2010 et de -0,3% sur un an. En 2010, les quotidiens régionaux ont rassemblé chaque jour 17,2 millions de personnes, soit plus d'un tiers des Français. Quand la presse passe collectivement à l'offensive - EDITION. ABC merges print and online operations. The Audit Bureau of Circulations is reorganising its ABC print and ABCe digital elements into a single organisational strand to better reflect the changing shape of the publishing industry.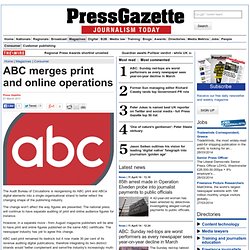 The change won't affect the way figures are presented. The national press will continue to have separate auditing of print and online audience figures for instance. However, in a separate move - from August magazine publishers will be able to have print and online figures published on the same ABC certificate. The newspaper industry has yet to agree this change. ABC said print remained its bedrock but it now made 30 per cent of its revenue auditing digital publications, therefore integrating its two distinct strands would 'better complement and serve'the industry's increasingly multi-platform needs.
Papier et internet complémentaires. MMITF. The Media Measurement Integration Task Force (MMITF) is an international coalition of media organisations, and an initiative of the World Association of Newspapers.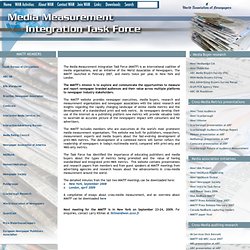 The MMITF launched in February 2007, and meets twice per year, in New York and London. The MMITF's mission is to explore and communicate the opportunities to measure and report newspaper branded audiences and their value across multiple platforms to newspaper industry stakeholders. The MMITF website provides newspaper executives, media buyers, research and measurement organisations and newspaper associations with the latest research and insights regarding the rapidly changing landscape of online media metrics and the development of a standardised print and web metric.
As newspapers develop their use of the internet as a publishing platform new metrics will provide valuable tools to ascertain an accurate picture of the newspapers' impact with consumers and for advertisers.
---